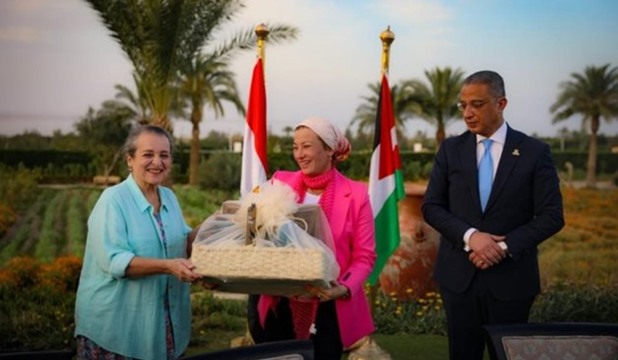 Environment Minister Yasmine Fouad saw Sunday Jordanian Princess Alia bint al Hussein off at the end of her four-day visit to Egypt, where she embarked on a tour of Fayoum Governorate, southwest Cairo.
While in Fayoum, Princess Alia visited Wadi El Rayan protectorate.
Fouad had praised cooperation between Jordan and Egypt in the fields of biodiversity conservation and ecosystem preservation, under the directives of President Abdel Fattah al-Sisi on boosting environmental investment in nature reserves.
The minister reviewed the key tourist value of Wadi El Rayan nature reserve, with its distinguished waterfalls which make it one of the unique tourist destinations nationwide.
Princess Alia's visit aimed to hold talks on promising environmental investments, according to a statement by the Environment Ministry.
Princess Alia's visit to Egypt crowned the recent successful visit of the environment minister and the governor of Fayoum to Jordan, at the invitation of the Jordanian princess to lay the foundation stone of cooperation between both countries in the domain of nature preservation as well probing potential investment opportunities in nature reserves, especially in Fayoum.
During her "successful" visit, the Jordanian princess took part in the signing ceremony of a quadripartite-protocol grouping the Ministry of Environment, Fayoum Governorate, Princess Alia Foundation and FOUR PAWS Animal Welfare Foundation.
The protocol is the first of its kind, as regards furthering the Egyptian-Jordanian cooperation in the areas of green investment and environment protection.