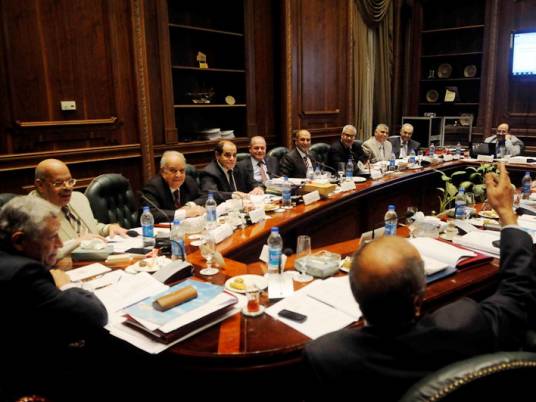 Journalist Mahmoud Nafady, head of the parliamentary reporters division, filed lawsuit at the State Council against decision of the 50-member committee, tasked with amending the constitution, that ordered secret voting by the committee members on the constitution's articles and banned public discussions over the articles.
Nafady said on Wednesday that after Amr Moussa was elected as the committee chief, he vowed that the work of the committee be known and monitored by the public.
Nafady also added that the decision contradicts texts on freedom of information circulation as well as principles of 30 June revolution. He said he will propose among the division members boycotting press conferences by the committee spokesperson in protest against the decision.
In related news, dozens of the 'We trust you' campaign members staged protest in front of the Shura Council on Tuesday against amending of the constitution written under the Muslim Brotherhood rule.
They called for a constitution that suits the revolution rather than an amendmended one that is subject to political pressure.
They also stressed necessity of respecting people's will, which toppled the Brotherhood regime on 30 June.
Protesters raised banners and chanted anti-Brotherhood slogans.
Samir abdel Aziz, the campaign's founder, expressed rejection toward the smear campaigns against the state institutions like police, military, Al-Azhar and Church.
Several political forces expressed rejection toward the committee decision saying it contradicts rules of transparency and allows the spreading of rumors over the discussions. They also called for protests on Wednesday in front of the Shura Council to demand canceling it.
Taqadom al-Khateeb, youth coordinator of the National Association for Change, said "the committee makes the same mistakes that the Brotherhood committee made earlier while writing the 2012 constitution."
He added that the decision should be canceled and sessions should be broadcast on air. "Secret voting indicates intentions to pass some articles in favor of state institutions at the expense of the people."
Shehab Wageeh, of the National Salvation Front, "Secret sessions is a wrong decision. Some mistakes within the committee's decisions should be reconsidered."
Leftist Tagammu Party youth called on the committee to cancel the decision, adding that the constitution is for all Egyptians and they deserve to know the truth.
Edited translation from MENA and Al-Masry Al-Youm