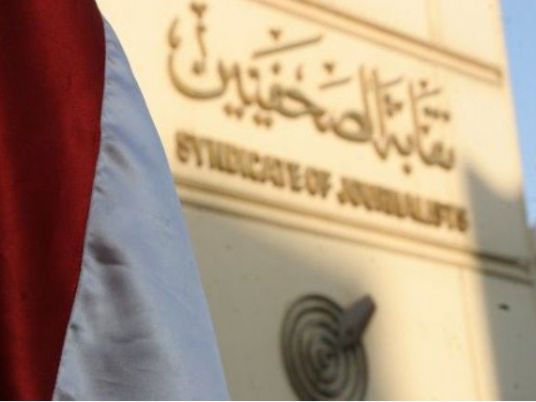 The Journalists Syndicate elections, which were slated to take place yesterday, have been postponed to March 17. The general assembly failed to reach a quorum of "50 percent plus one" of all eligible voters by 3.00 pm Cairo time.
Voter registration began at 10.00 am. A quorum of 4,300 journalists eligible voters was needed to hold the elections.
The elections slated to take place later in March will be held with a revised quorum of "25 percent plus one" syndicate members.
The union has set up a large marquee at Abdel Khaliq Tharwat Street, in front of the Syndicate's headquarter, to facilitate the registration process for journalists.
In these midterm elections, seven candidates are competing to win the chairmanship of the syndicate, most notably Yehia Qallash, and Abdel-Mohsen Salama, who enjoys good relations with state institutions and is known as the candidate of the state.
There are 70 other candidates competing on the membership of the syndicate's board.
Advertising banners for the candidates were spread in front of the union building and inside the marquee; delegates for the candidates have also been handing out their own propaganda sheets.
Qalash said in statements yesterday that the syndicate elections are not "any individual's own election", and do not serve certain ideologies; but rather, they can be seen as an indicator of the will of the syndicate, which is the home for freedom of expression.
Salama said that the elections of the Journalists Syndicate represent an honorable model for democracy in Egypt. He added, in a press statement, that his goal is to maintain the union and the unity of journalists.
"There is nothing called a state candidate, I am a candidate of all the journalists, and I have the strong relationships needed by the union and the journalists to solve all the accumulated files," Salama added.
Former chairman of the syndicate Makram Mohamed Ahmed has maintained a critical approach against the current chairman Qallash
Mohamed Ahmed said that the most suitable person to lead the journalists' syndicate during the current stage is a journalist who is a professional, one who "really goes after the news", and "not the political activists"; adding that a good unionist who is able to uphold the rights of journalists would be best suited for the position of chairman.