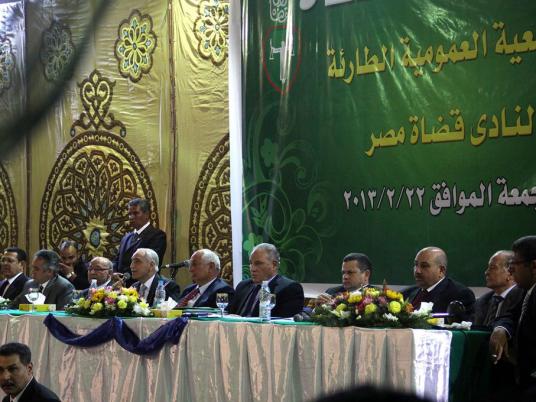 A number of judges have come forward defending the recently-issued protest law,
arguing that it aims to regulate demonstrations, not restrict them, adding that
citizens still have the right to demonstrate to express their opinion.
Many judges, such as Under secretary of the Judges Club and deputy head of the Court of Cassation Abdallah Fatehy, have also stressed that the law should have been issued long ago.
Fatehy believes the law is important especially during this transitional period so as to put a legal framework for peaceful demonstrations.
"
Disrupting work at state institutions is unacceptable and the daily violent acts committed in the streets have nothing to do with the right of peaceful protest guaranteed by the law,
"
Fatehy said.
Fatehy added current protests merely aim to paralyze the state and traffic and should be addressed firmly.
Demonstrating outside courts is prohibited by law because it forms an attempt to influence judges and obstruct justice, Fatehy said.
Demonstrations should not harm people's interests or be violent and destructive, Head of the Judges Club-Monufiya branch, Abdel Sattar Emam said.
The law regulates protests through notification on specific dates and times, and t
he organizers of the demonstration have the right to challenge the Interior Ministry before a judge for urgent matters in case the protest is prevented, Emam added.
Interim President Adly Mansour signed a controversial law on Sunday to regulate protests.
The law requires the notification of the Interior Ministry three days before organizing demonstrations. Should the ministry reject, the organizers can resort to a judge of urgent matters.
On Friday, 19 Egyptian right groups issued a joint statement, saying the law restricts freedom of speech and peaceful assembly.
Many political parties, such as the 6 April Movement and the Strong Egypt Party, have already vowed to fight the law until its repeal. Tamarod said although the organization agrees with regulating protests, they stressed this law goes too far to restrict human rights.
Edited translation from Al-Masry Al-Youm