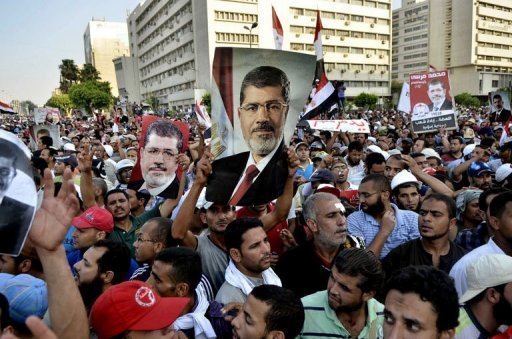 A request by the United States to immediately release Egypt's ousted president Mohamed Morsy represents an undue intervention in local affairs, according to Kefaya Movement spokesperson, Abdel Rahman al-Gohary.
Gohary described the request as proof of America's "rudeness," claiming it represented an intervention in Egypt's local and foreign affairs.
"It has been proven that statements by the U.S. administration and the White House since 30 June are biased towards…the Muslim Brotherhood," the Kefaya spokesperson said.
"[They] try to spread the rumour that it wasn't a revolution, but a coup," he added.
Gohary claimed the U.S. request to release Morsy, who is currently being held at Republican Guard House according to local media, would not hasten the process.
On Friday, the U.S. State Department called for deposed President Morsy to be released after a week of ambivalent responses to the events following 30 June.
President Barack Obama and his administration have shied away from calling Morsy's ouster a military coup.
Asked if the United States agreed with the German Foreign Ministry's call for Morsy to be released, State Department spokesperson Jen Psaki told reporters: "We do agree."
Edited translation from Al-Masry Al-Youm