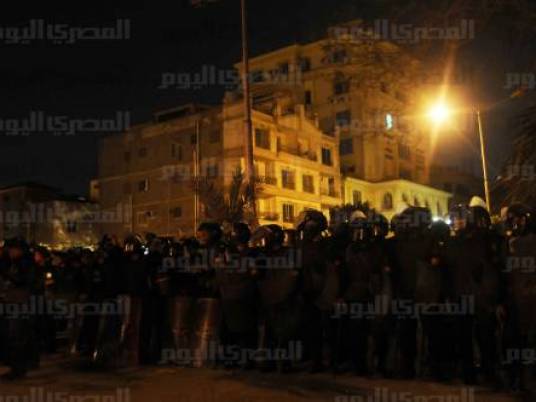 Large amounts of tear gas were thrown Monday morning at anti-Brotherhood demonstrators by the Central Security Forces in front of the Muslim Brotherhood headquarters in Street 10 of the eastern Cairo suburb of Moqattam forcing protesters to retreat to Street 9.
Public Prosecutor Talaat Abdallah issued a summons on Monday for three guards of Khairat al-Shater, Deputy Supreme Guide of the Muslim Brotherhood. They face accusations of assaulting anti-Brotherhood protesters and reporters on Saturday.
A team tasked by Abdallah to investigate a complaint submitted by the Journalists Syndicate's newly-elected chief, Diaa Rashwan, was able to identify a number of perpetrators through video clips and photos of the brawls. Rashwan had accused the Brotherhood of assaulting reporters.
Clashes began between supporters and opponents of President Mohamed Morsy, and later with security forces late Saturday after a group of Brotherhood members attacked protesters spraying anti-Brotherhood graffiti near its headquarters. Journalists reporting the events were also attacked.
Civil society and political groups as well as journalists condemned Saturday's attack on activists and reporters. They protested outside the Brotherhood headquarters Sunday, and clashes broke out again on Sunday evening.
Security forces managed on Monday to disperse protesters who fled to side streets in the vicinity of the Brotherhood headquarters. Street lighting on both Streets 9 and 10 were cut off.
Some anti-Brotherhood demonstrators tried to return to Street 10, but the Central Security Forces stationed at the head of the street prevented them from doing so, leading to skirmishes in the streets around the Muslim Brotherhood headquarters.
The Public Prosecution on Sunday ordered the detention of 15 suspected of involvement in Saturday's clashes.
Edited translation from MENA and Al-Masry Al-Youm