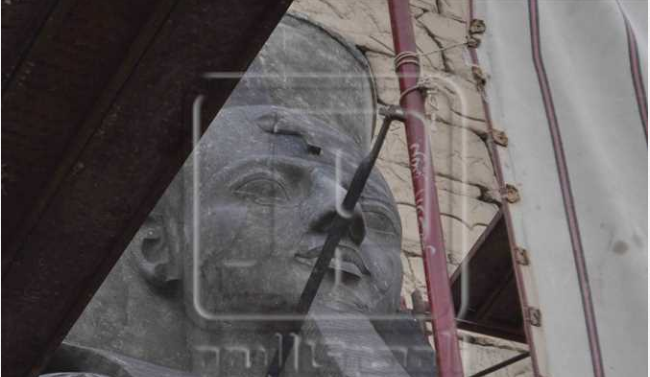 Minister of Antiquities Khaled al-Anani and 40 ambassadors have inaugurated the statue of King Ramses II on Saturday, after completion of the restoration work and assembling of its pieces. The statue was installed next to the statue of Queen Merit Amun in the city of Akhmim, Sohag.
The ceremony was attended by Governor of Sohag Ahmed al-Ansary, Secretary General of the Supreme Council of Antiquities Mostafa al-Waziry and 40 ambassadors from Arab and foreign countries.
According to Anani, Sohag is putting in continuous effort in cooperation with the Antiquities Ministry to mark itself on the map of international tourism.
Ansary said that the statue was inaugurated in conjunction with the Sohag National Day.
The restoration of the statue began six months ago, and included cleaning, archiving, assembling and re-installation. The statue's height, after the completion of work, stands at approximately 12 meters and was placed on a base next to the statue of Merit Amun, according to Waziry.
Anani and his accompanying delegation visited the al-Deir al-Ahmar (Red Monastery) area in the western mountain of Sohag. They listened to an explanation from Archbishop Antonios al-Shanoudi, the secretary of the monastery, about its archaeological history dating back to 500 BC.
Anani also inspected the al-Deir al-Abyad (White Monastery) also in the western mountain of Sohag, and said that the ministry attaches special importance to the restoration of monasteries and ancient churches.
Ali Ahmed, Director General of Sohag Antiquities, said that studies are underway to begin a new project for the restoration of al-Deir al-Abyad at a cost of LE350 million.
Edited translation from Al-Masry Al-Youm