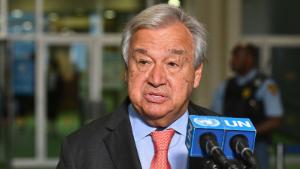 The Kremlin has warned that US "megaphone diplomacy" will not help negotiations for a prisoner exchange regarding basketball star Brittney Griner.
Moscow believes these talks should be "discrete," Kremlin spokesperson Dmitry Peskov said on Tuesday.
"Megaphone diplomacy and public exchange of positions will not lead to results here," Peskov added.
Amid this pressure and after months of internal debate, the Biden administration proposed a prisoner swap with Russia, offering to release a convicted Russian arms trafficker in exchange for Griner and another American detainee, Paul Whelan, people briefed on the matter told CNN.
Russian officials replied to the US prisoner swap offer, according to multiple sources familiar with the discussions, requesting that in addition to arms dealer Viktor Bout, the US also include a convicted murderer who was formerly a colonel with the Russian spy agency, Vadim Krasikov.