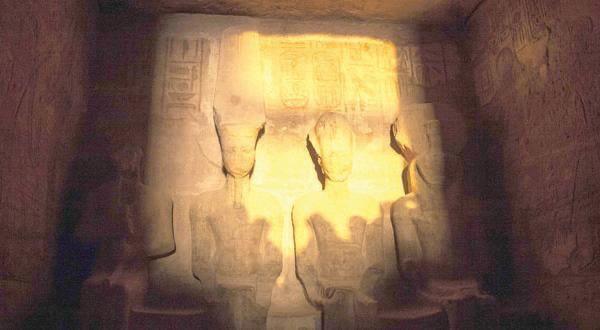 On Tuesday morning, about 6,000 tourists gathered to see the sun's alignment to the face of the statue of King Ramses II in Abu Simbel temple.
A rare astronomical phenomenon that is repeated twice in a year on February 22 and October 22.
The Minister of Tourism and Antiquities Khaled al-Anany and Aswan Governor Ashraf Attia attended the event.
Eighteen international and local folklore troupes presented artistic performances inside the Abu Simbel temple yard.
The phenomenon began at 6:23 am and lasted for about 20 minutes, during which the sun's rays cut off the entrance to the temple: reaching the chamber and eventually to fall perpendicular to the face of the statue of Ramses II.
The Abu Simbel monument was provided with 64 surveillance cameras in addition to electronic gates and security X-ray devices  ahead of the sun's alignment phenomenon on King Ramses II statue.
During the phenomenon, sunlight also illuminates the statues sitting next to Ramses II of the sun gods Re-Horakhte and Amon-Re on February 22 and October 22.
These statues sit in the company of the Theban god of darkness, Ptah, who remain in the shadows all year.