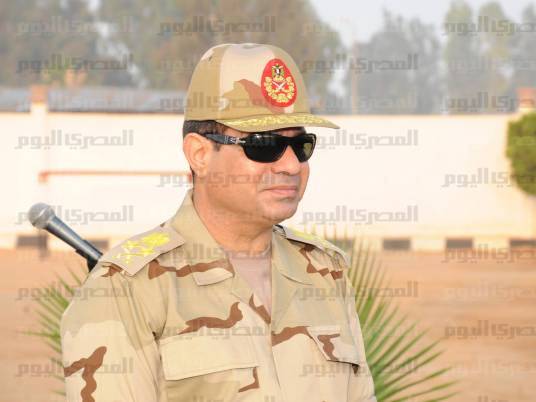 Nabil Luka Bibawy, a retired police officer, filed a lawsuit on Thursday, demanding the Supreme Council of the Armed Forces nominate Defense Minister Abdel Fattah al-Sisi for the presidential elections, in response to the call of the majority of the Egyptian people.
He also demanded LE1 million in compensation in case the council procrastinates the decision, an amount that he said should be spent on the restoration of houses of worship under the supervision of the Al-Azhar.
"The council is taking a passive stance," he said. "This gives the right to any citizen to appeal against this passiveness."
"Public interest presides over private interest," he said. "This means Sisi has no right to reject the candidacy."
Biblawy revealed his strongly-held beliefs are founded in an anti-American conspiracy theory. He said that the army stood by the people in the 30 June revolution to foil the American plan to divide Egypt into four states, which was devised by Bernard Lewis, the advisor to the US defense secretary for the Middle East, and which Congress had approved in a secret session in March 1983.
"The only hope of the Egyptians is Sisi who saved them from the Muslim Brotherhood," he said. "He brought back to our minds the image of President Nasser."
"All other candidates will withdraw if he runs in the elections," he said.
Edited translation from Al-Masry Al-Youm