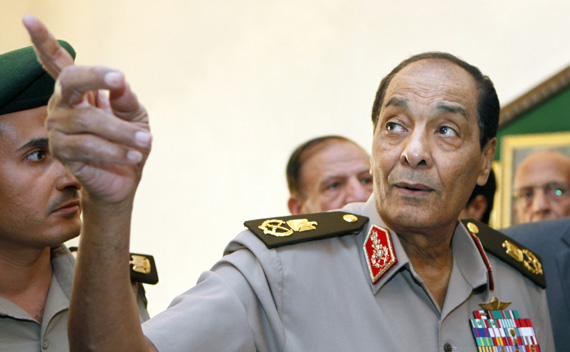 A lawsuit demanding the cancellation of the complementary constitutional declaration issued by the Supreme Council of the Armed Forces was submitted on Monday to the administrative court.
On Sunday the SCAF passed amendments to the Constitutional Declaration voted in by popular referendum in March 2011. The amended articles grant the SCAF full legislative and financial powers, outline the role of the next president and govern the formation of the Constituent Assembly that would draft the new constitution.
Lawyer Ali Dergham filed suit against head of the military council Field Marshal Hussein Tantawi, as well as all other council members, judicial sources told Al-Masry Al-Youm.
The lawsuit says that "the complementary constitutional declaration is in essence a military coup, which lessens the president's responsibilities and grants the military council wider latitude and powers that should be given only to the president and no one else."
The SCAF's amendments to the Constitutional Declaration are a form of procrastination by the military council that would postpone their scheduled handover of power, the lawsuit added.
The lawsuit demanded to "cancel the Constitutional Declaration and consider it null and void."
Former presidential candidate Khaled Ali said Monday that the complementary constitutional declaration is "a crystallization of the domination of the military council over the country, with the shrinking of the elected president's powers."
The declaration gives a special status to the military council which is not granted in any other democratic state, Ali said in his statement.
It is not normal that the president would be able to declare war only with the agreement of the military council, said Ali. The president should consult with the military council, but the final decision should rest with the democratically elected president, he added.
Ali said that the complementary constitutional declaration takes powers away from the elected president and grants them to the military council. The military council's members were appointed by the ousted regime, and they could still maintain power in the country no matter who comes to the presidential office, he concluded.
Edited translation from Al-Masry Al-Youm