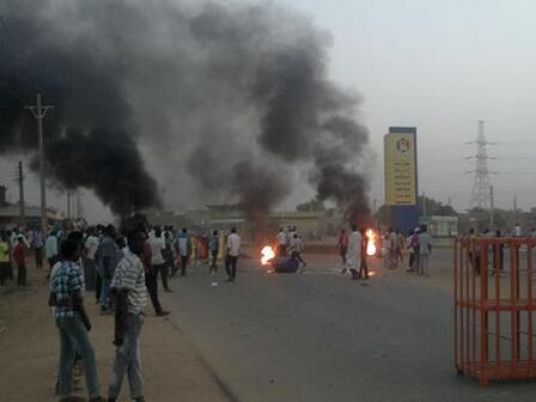 At least 27 people have been killed in protests in Khartoum over fuel subsidy cuts, a medical source said on Thursday, making it the deadliest outbreak of unrest in Sudan's capital in years.
Thousands of protesters torched cars and petrol stations in central areas of the capital on Wednesday, sending thick plumes of black smoke into the air. Internet access went down across the country, although the cause was not immediately clear.
Sudan's president, Omar Hassan al-Bashir, has avoided the mass unrest that unseated rulers in Arab countries like Egypt and Tunisia, but anger has been rising over inflation and corruption.
Relatives and medics said at least six people were killed in Wednesday's protests, but a medical source at a hospital in Khartoum's Omdurman neighbourhood said 27 bodies had arrived at that hospital during the riots.
"There were 27 people killed in the protests and their bodies are at the Omdurman hospital," the source told Reuters, asking not to be named.
The Arab-African country has suffered from armed insurgencies in its poor peripheral regions for decades, but the wealthier central areas along the Nile including Khartoum are usually relatively isolated from unrest.
Similar protests broke out in June last year after some fuel subsidies were cut, but they fizzled after a security crackdown. This round of unrest started on Monday after the government announced another set of cuts to fuel subsidies.
The secession of oil-producing South Sudan in 2011 hurt Sudan's economy, depriving it of about three-quarters of the crude production it relied on for state revenues and foreign currency used to import food.
Despite an outstanding warrant for his arrest from the International Criminal Court, Bashir said on Sunday he planned to attend the UN General Assembly and had booked a hotel in New York.
But a UN official told Reuters by email Bashir would not be coming to New York, giving no further details.
Washington has led calls for Bashir to face international justice over bloodshed in the now decade-old conflict in Sudan's Darfur region and the U.S. ambassador to the UN had previously called Bashir's intention to travel to New York "deplorable."