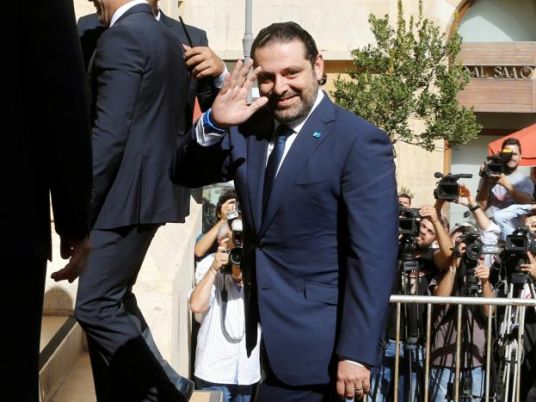 Lebanon's president asked Sunni leader Saad al-Hariri to form a new government on Thursday, after he won the support of a majority of MPs including the influential parliament speaker who said he would cooperate with efforts to set up the new cabinet.
Hariri's nomination is part of a political deal that resulted in the election of Christian leader Michel Aoun, a close ally of the Iran-backed group Hezbollah, as head of state on Monday, ending a 2-1/2 year long presidential vacuum.
A big concession on the part of Hariri, the deal has underscored Hezbollah's dominant position in Lebanon and the diminished role of Hariri's main regional backer, Saudi Arabia, which appears more focused on confronting Iranian influence elsewhere in the region.
The quick formation of a new administration with cross-party support will help revive government in a country where political conflict has paralyzed decision-making, economic development and basic services, and raised fears for its stability.
The central bank governor said Aoun's election and the formation of a government would boost confidence in the economy and attract foreign aid: Lebanon is hosting some 1.5 million refugees from the war in neighbouring Syria.
Hariri, 46, said he aimed for the quick formation of a government of "national accord".
Speaking at the presidency, he said "we owe it to the Lebanese to start working as soon as possible to protect our country from the flames burning around it, to reinforce its immunity in the face of terrorism".
Lebanon has been buffeted by instability from the war in neighboring Syria, where Hezbollah is fighting in support of President Bashar al-Assad. Jihadists have mounted attacks in Lebanon targeting Shi'ite areas and the army.
Underscoring Hezbollah's continued mistrust of Hariri, who remains critical of its role in Syria, the group did not name him as prime minister, though it is expected to take part in his cabinet.
Support from Berri
Parliament Speaker Nabih Berri, head of the Shi'ite Amal movement and close Hezbollah ally, had come out in opposition to the deal struck by Hariri and Aoun, voicing objections that had threatened to obstruct the formation of the new government.
But announcing his decision to endorse Hariri for prime minister on Thursday, Berri indicated he would cooperate in efforts to set up the new administration. "If there was no intention to cooperate, we would not have named him", he said.
Hariri took on the political mantle of his father, Rafik al-Hariri, after his assassination in 2005. A U.N.-backed tribunal has charged five members of Hezbollah over the killing. The group denies any role.
After his father's assassination, Hariri led a coalition of Lebanese parties through years of political conflict with Hezbollah and its allies, including Aoun. He was prime minister of a unity government from 2009 to 2011.
Hezbollah and its allies brought down that government by resigning while he was in Washington meeting the U.S. president.
Hariri's concession has also been seen as a result of financial troubles at his Saudi-based construction firm Saudi Oger, which hit his political standing in Lebanon by causing to a sharp decline in funding for his political network.
In Lebanon's sectarian power-sharing system, the post of prime minister is reserved for a Sunni Muslim, the president must be a Maronite Christian, and the parliament speaker must be a Shi'ite Muslim.
The Lebanese must now agree on how to parcel out government portfolios. The post of energy minister is seen as one of the hardest to agree on. Lebanon has offshore oil and gas resources that have been left unexploited due to political conflict.