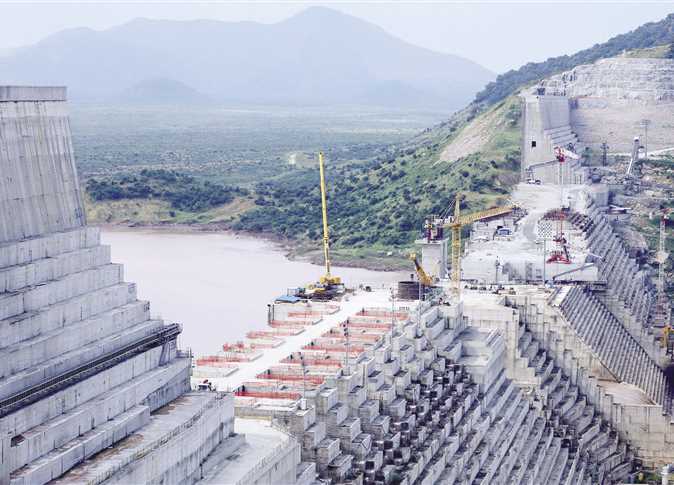 Legal and technical experts from Egypt, Sudan and Ethiopia will begin a two-day meeting in the Sudanese capital Khartoum on Wednesday, with the aim of arriving at a draft agreement on filling and operating the contentious Grand Ethiopian Renaissance Dam (GERD).
The draft will be presented during the final meeting on the GERD, which is scheduled to be held in Washington on January 28 and 29 and hopes to resolve ongoing disagreements about filling and operating the new dam.
The Ministry of Irrigation has previously denied that Egypt was under pressure to waive some of its demands in the last round of Renaissance Dam negotiations in Washington, DC, which was attended by foreign and water ministers of Ethiopia, Sudan and Egypt, as well as officials from the World Bank.
Mohamed al-Sebaei, the official spokesperson of Egypt's Ministry of Water Resources and Irrigation, said in a statement on Tuesday that the three countries agreed during the recent meeting in Washington to reach a comprehensive and sustainable agreement based on cooperation from all parties, but legal and technical experts from the three countries are set to hammer out the details of this agreement during this week's Khartoum meetings.
The Washington meeting evaluated the progress of ongoing negotiations held over the past two months on procedures for filling and operating the Renaissance Dam, with filling and operating rules during periods of prolonged droughts remaining a point of contention, according to Sebaei.
According to a statement from the US Treasury Department on the upcoming talks in Washington, the dam will be filled in stages in an "adaptive" and "cooperative" manner during the rainy season, or from July to August, and will continue into September if conditions allow.
Special consideration will be taken to assess the impact of this process on water reserves in downstream countries, the statement said, adding that subsequent stages of filling the Renaissance Dam will depend upon the water level in the Blue Nile and will ensure that water continues to flow during long periods of drought.
Egypt, which relies considerably on fresh water from the Nile, has voiced concerns that the GERD would negatively impact the country's water supply since construction of the dam began on Ethiopia's Blue Nile in 2011.
Egypt also blamed the failure of early talks in Ethiopia's capital Addis Ababa on Ethiopia's "intransigence," accusing the country of presenting technical proposals during the meetings showing their intention to fill the GERD reservoir without applying rules providing "real guarantees" protecting downstream countries.
Ethiopia, on the other hand, has reiterated the importance of the project to bolstering the economy in the country, where more than half of the population currently lives without access to electricity, according to a report from AFP.
Edited translation from Al-Masry Al-Youm