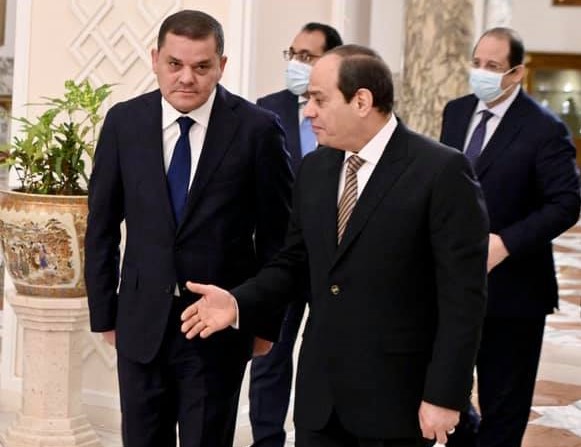 Libya's newest Prime Minister Abdel Hamid Dabaiba concluded his visit to Cairo on Friday and headed next to Tobruk city in his first visit to eastern Libya.
Once in Tobruk, Dabaiba met with the Speaker of the Libyan House of Representatives Aguila Saleh to discuss an upcoming session held in Sirte to approve the new Libyan government.
Libyan sources anticipate that the newest Presidential Council head Mohamed al-Manfi will visit Cairo shortly after Dabaiba's visit.
The sources added that Manfi's upcoming visit aims to confirm the principles of constructive cooperation and establish a new stage in which comprehensive partnership will be the basis for the future.
It also indicates the new Libyan authority's dependence on its Arab surroundings, with Cairo at its core.
Meanwhile, the Special Envoy on Libya and Head of the United Nations Support Mission in Libya (UNSMIL) Ján Kubiš met with the Commander-in-Chief of the Libyan Army Khalifa Haftar in Benghazi on Friday.
They discussed the ceasefire agreement signed on October 23 and ways to unify the military establishment.
The meeting came hours after Kubiš met with UNSMIL Coordinator Raisedon Zenenga, the Humanitarian Coordinator for Libya Georgette Gagnon, the Minister of Defense in the Government of National Accord, Salah al-Nimroush, and senior officials of the Ministry of Defense in Tripoli.