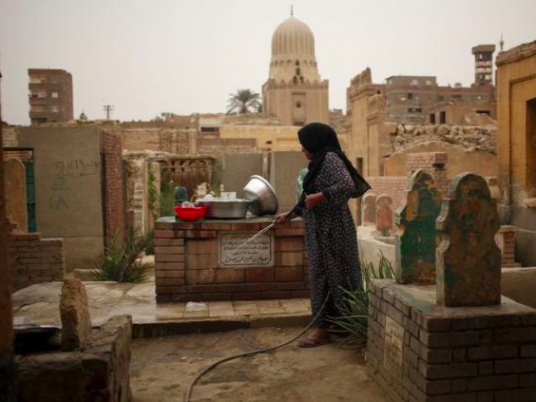 In a sprawling Cairo neighborhood known as the City of the Dead, life and death are side by side.
Amid a housing crisis in Egypt, and with the population of the capital estimated at 20 million, thousands of people count themselves lucky to call Cairo Necropolis home.
For some in the neighborhood of cemeteries, the final resting place to hundreds of thousands of people over centuries, the graves themselves provide a livelihood: with people taking care of tombs, digging new graves, or selling flowers to visitors paying their respects on Fridays.
Others who live amid the tombstones are copper workers and carpet makers, their handiwork then sold in Khan al Khalili, Cairo's tourist market.
Some families have lived here, away from the hustle and bustle of the capital, and in a country with a booming population of 90 million, for three or more generations.
"Living with the dead is very easy and comfortable," says Nassra Muhamed Ali, 47. "It's the people who are living who harm you."
Nassra, who lives there with her two brothers and 16-year-old daughter, says the relative peace and quiet of the area has its downsides. Some from outside the neighborhood use the graves to deal drugs, with theft also an issue, she says.
Her parents moved there after they married and worked tending the graveyards. Some moved to the neighborhood after they were forced out from central Cairo in the 1950s.
It is the oldest burial site in the city, dating back as long as 1,000 years, near the Al-Azhar Mosque. Those buried there include famous actors, among them Farid al-Atrash and his sister Asmahan, who appeared in Egyptian movies until the 1960s.
A caretaker typically gets 150 Egyptian pounds ($19) for each new grave dug for poor families, and between 400 and 500 Egyptian pounds from richer customers, residents say. Of that, the gravedigger then receives between 50 to 70 Egyptian pounds.
The cemeteries also bring in money for street vendors including a barber, available to shave the residents before Friday prayers, and a man selling fresh vegetables from his horse and cart. Another man on a motorbike sells milk.
Hisham, who makes carpets, came to the area 45 years ago with his mother. He has stayed in the cemetery ever since and worked to provide his four sons with an education. Ihab, one of them, is now an IT graduate.
One woman said visiting her two daughters, who live in shantytowns on the outskirts of Cairo, makes her appreciate the space and tranquility of her home in the Necropolis all the more.