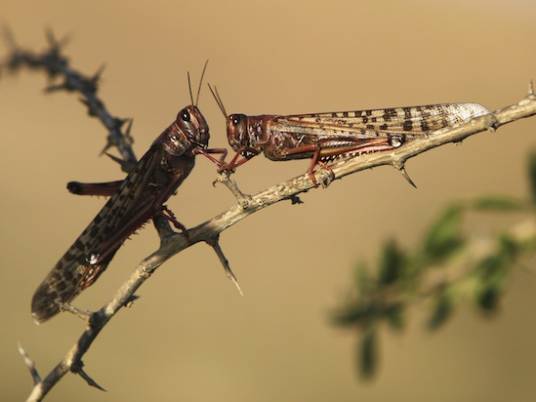 The locust-monitoring base in South Sinai received reports of locust swarms reaching Sharm el-Sheikh and attacking villas in the plateau and Ruwaisat areas, as well as bazaars in the Old Market, where shop owners had to resist the swarms with conventional means.
A source at the base said the swarms are heading to the city of Dahab, and that the base sent teams to the Gharandal Valley to resist swarms coming from Ahmed Hamdy tunnel.
But Adel Kassab, director of the South Sinai emergency operations center, said his teams did not find locusts in Sharm el-Sheikh.
"Our teams are doing a great job," he said.
Locusts pose a serious threat to crops. Egypt has been affected by locust swarms before, notably in 1954, when red locusts ate nearly 250,000 tons of corn in Egypt and North Africa.
Locust swarms from the Arabian Peninsula have periodically attacked Egypt, including in 1968, 2004, 2007 and 2011, but without resulting in major crop damage.
Edited translation from Al-Masry Al-Youm