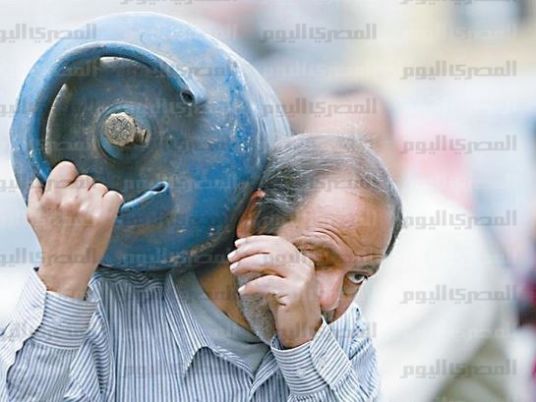 The LPG cylinder crisis aggravated in several governorates on Wednesday.
In Sohag, the price of the cylinder on the black market reached LE80, prompting citizens to appeal for Sohag governor Ayman Abdel Moneim to swiftly find a solution to the crisis.
Undersecretary of the Supply Ministry in Sohag Shams Eddin Mohamed Youssef said the LPG cylinders will be linked to the ration cards to confront the black market traders.
Mohamed Abdou Abdel Halim, a resident at Enaibs village said he bought a cylinder on the black market for LE80 in Tahta City.
The Supply Ministry officials in Kafr al-Sheikh failed to find solutions to the crisis of LPG, as the price of the cylinder reached LE30.
Resident Samy Awad said LPG cylinders completely disappeared and are sold on the black market. Lorries laden with LPG cylinders sell the cylinder at LE30 after midnight, he added.
Poultry farms are the reason behind the rise of prices because farms owners use subsidized LPG cylinders, said Hassan Abdallah from Riyadh, Kafr al-Sheikh.
"The crisis aggravated and we do not find the cylinders on the market. We have no choice but to return to primitive means for cooking and heating," said Abdallah.
Dozens of residents of the city of Mansoura, Daqahlia, gathered in front of a police car calling for help after they failed to obtain LPG cylinders.
Abdel Rahman al-Sayted, Undersecretary of the Supply Ministry in Daqahlia said that the reason for the crisis in the city was that village residents come to buy cylinders from the city.
Dozens of residents of the village of Kafr Behidah, in Meet Ghamr, threatened to stage a sit-in at Daqahlia governor headquarters until they receive gas cylinders saying the village has not been supplied with LPG cylinders since 15 days.
Qena governor Major General Abdel Hamid al-Haggan said 29 thousand butane cylinders have been put on market recently.
Legal measures are taken immediately against warehouse owners who deal with black market traders, he said.
The cause of the crisis is shortage in gas to fill the LPG cylinders, the governor said.
Supply police in Damietta foiled an attempt to smuggle 67 subsidized LPG cylinders to be sold on the black market in Daqahlia Governorate.
Edited translation from Al-Masry Al-Youm