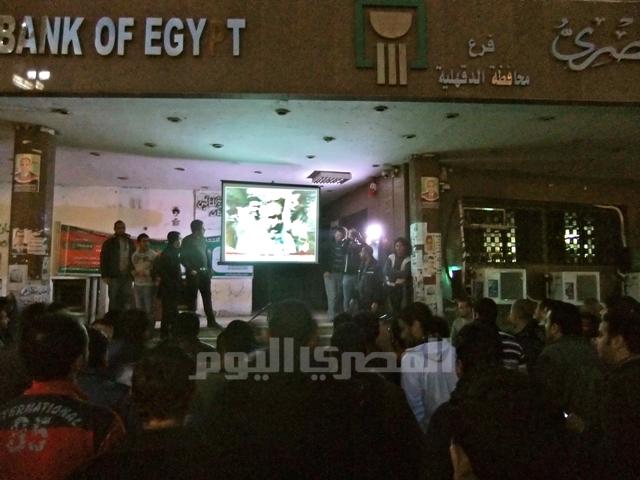 MANSOURA — The governor of Daqahlia on Saturday banned the Kazeboon Campaign, an initiative by activists to screen films that show military abuses of civilians, from holding screenings without permission from his office.
But activists with the campaign say they will not allow the ban to stop what they call lies from the military council.
The governorate released its statement on the ban on its official Facebook page Saturday night. The next day, Kazeboon activists in Mansoura, the capital of Daqahlia, projected the film next to the governorate's administrative building above the steps leading to the governor's office.
The film is a montage of footage that shows soldiers violently attacking protesters, juxtaposed with government officials denying violence.
Sunday's screening was Mansoura's largest yet. The campaign has shown the film roughly 15 times over the past month in various locations around Mansoura to crowds about about 20 to 50 people, an organizer told Egypt Independent. On Sunday night, about 150 people attended the showing.
The Kazeboon Campaign is screening similar films in locations around the country.
In a speech to cadets at the military academy on Sunday, Field Marshal Hussein Tantawi, the head of Egypt's ruling military council, called on Egyptians to trust their army.
"Those who criticize the armed forces know little," Tantawi said.
When not showing the film, the Kazeboon activists in Mansoura have lined the main streets of the city with students holding signs bearing various grievances, mostly directed at the military council.
On 28 January, the campaign focused on the city's telecommunication companies, demonstrating in front of mobile and internet service providers to remind residents of the communication blackout the companies enabled exactly one year before. One sign read, "Thank you TE Data for participating in the killing of demonstrators."
"We will keep showing the film," Abdu Saad, a Kazeboon Campaign organizer and member of the April 6 Youth Movement in Mansoura, told Egypt Independent. "We have to let people know about the military's abuse. The goal is to remove the military from power."
The film is scheduled to be shown in Mansoura each day this week.