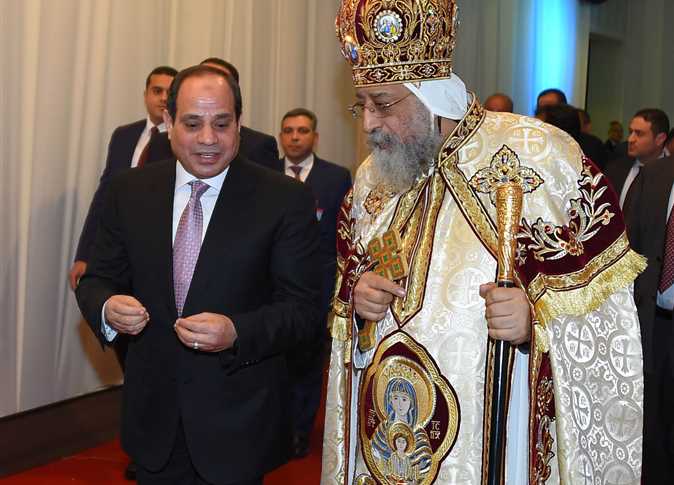 Over the past three days of Egypt's presidential elections, many Christians turned out in support for President Abdel-Fattah al-Sisi, with many in the community endorsing him for a second term in office.
While some Egyptians find his win inevitable against his little known rival Moussa Mostafa Moussa, a lot of Christians believe he is the best man to rule Egypt at the moment.
Pope Tawadros II himself announced his backing of Sisi and he was seen casting his ballot and encouraged other Christians to vote — he called upon Christians to perform their "national duty."
Pope Tawadros thanked Sisi for his support of Christians, after becoming the first president in the history of Egypt to attend several Christmas masses during his first term.
In his post-Mass speech, Pope Tawadros extended thanks to Sisi for the establishment of the new Nativity of Christ Cathedral in the New Administrative Capital, the largest church in the Middle East. Sisi also announced that he donated LE 100,000 to the project.
In the presidential elections that took place between March 26 and 28, Al-Ahram newspaper reported that in Beheira, priests were seen casting their ballots and urging Christians to participate as well.
Some of the most notable examples of Christian participation were Egyptian nuns in Sudan, who travelled 600 km from Sanar to Khartoum to cast their ballots, according to Al-Ahram.
Nevine Sobhi, 49, a Christian living in Alexandria, told Egypt Independent that "Even if anyone was running against Sisi, I still would have chosen him."
"As a Christian living in Egypt, I voted for him not just to give legitimacy to the elections but because I truly want him for the next four years."
"I do not blame him for any of the problems facing the Christians now(…)we are living in a good time (under Sisi's rule)."
Another Christian, who chose not to reveal her name, told Egypt Independent that her main reason for supporting Sisi is because he values Christians' lives.
"In the past, when a Christian soldier died, society would not pray for him, because people thought it was sinful to pray for a Christian. This is only one example of how Sisi changed people's conceptions about us."
"Moreover, a lot of churches had no license — Sisi gave them licenses and allowed them to operate."
This is in reference to one of Sisi's most popular laws with Christians to date — parliament approved a law in 2016 aimed at facilitating for Christians to build and restore churches.
Additionally, the cabinet gave a legal approval to 53 churches and service buildings to carry out religious rituals according to the constitution's provisions.
Nahla Alfred, 50, believes Sisi will always be viewed by Christians as their saviour from the Muslim Brotherhood, which is why he deserves her vote. "I like to vote because I want to be positive, and there is no alternative," she said.
"I think he is powerful as he got rid of Morsi [the ousted President of the Muslim Brotherhood] and that is the main reason why Christians love him. He also knows how to complement them by going to the Cathedral every feast," Alfred told Egypt Independent.
However, not all Christians support Sisi. Though Miriam Edward, 23, voted for Sisi due to the lack of options, she said: "I think Mubarak's time was better. However, our generation started a revolution without considering the right steps, suddenly we were facing problems, like Morsi ruling, which wasn't good for us."
"We're voting for Sisi because he is our only option, at least he accepts Christians so he is better than the Muslim Brotherhood."
Since the beginning of his rule, Sisi has made an attempt to gain the support of Christians through gestures and actions.
Sisi also gained popularity because he ousted the Muslim Brotherhood from power who had been divisive and who were perceived as a threat to Christians in Egypt.
The banned Muslim Brotherhood group used a lot of anti-Christian rhetoric and made Christians feel marginalized. In contrast, Sisi attended more than once the Christmas masses during his rule, stressing on the brotherhood between Muslims and Christians.
On Christmas Eve 2016, Sisi had previously promised that the Engineering Authority of the Armed Forces would restore  sabotaged and burned churches. The Evangelical Church is one the churches that has been restored in 2017 after assailed by militants.