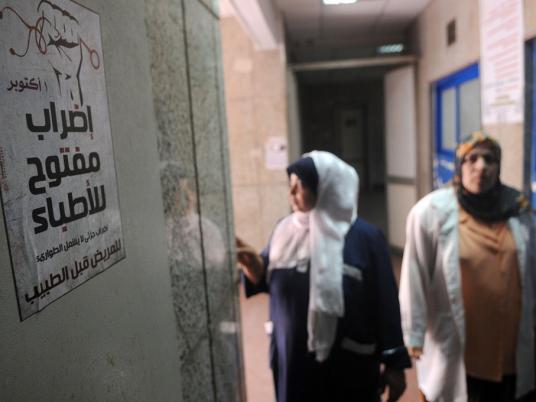 Doctors at Matariya Teaching Hospital decided Friday to submit their resignation to the Minister of Health if alleged police assault on doctors is not investigated.
The Matariya doctors said they will resume work at the reception and emergency departments of the hospital despite not having had their "rights" given back to them, according to a statement published on Friday on the Egyptian Medical Syndicate wesbsite.
The doctors at the Matariya hospital have held a week-long strike after low-ranking policemen reportedly assaulted two doctors at the hospital in January.
A video published by Egyptian news portal Mobtada late January featured a doctor who works at the Hospital, detailing the purported assault against him by low-ranking policemen as he attempted to provide one of them with healthcare.
The video featured doctor Ahmed Abdallah recounting the details of how he was "dragged" and "handcuffed", after he told a low ranking policeman that his wound was "superficial" and would likely not require stitches.
As tensions escalated, more low-ranking policemen arrived at the hospital and Abdallah was thrown into a vehicle, by which he and a colleague were taken to the police station.
The Matariya prosecution ordered the release of the policemen after they reconciled with the two doctors but a syndicate official said the doctors waived the complaint after they were subjected to "severe pressures" inside the Matariya police station. A police official told Aswat Masriya that there were no "pressures or threats".
Last Saturday, the Egyptian Doctors' Syndicate announced the "forced closure" of the Matariya Teaching Hospital, which will remain shut until there are clear arrest warrants for the policemen and they are referred to trial.
The syndicate called on the interior minister to suspend the low-ranking policemen believed to be involved in the purported assault on two doctor, stating that if no legal action is taken against the policemen, "all options to escalate" are on the table. This included holding a partial strike "in order to preserve the dignity of the masses of doctors."
An emergency general assembly meeting of the syndicate is due to be held on Feb. 12, to which the health minister and senior ministry officials will be invited.