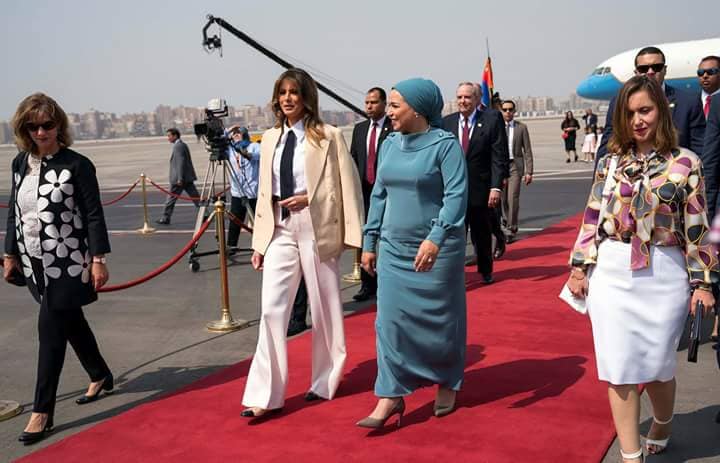 Melania Trump, wife of US President Donald Trump, arrived in Cairo on Saturday for her first ever visit to Egypt.
She was welcomed by Egypt's first lady Entissar al-Sisi, at the Cairo International Airport.
"I'll receive the honorable first lady of America, tomorrow in Cairo, and I wish her a successful and happy visit to her second country, Egypt," Mrs Sisi wrote in a Facebook post on Friday.
The visit of the US first lady to Egypt comes at the end of her tour to visit African countries, which included Ghana, Malawi and Kenya.
Melania Trump's visit will last several hours, coming from Kenya, with Egypt making her last stop on her first trip without US President Donald Trump.
The visit is scheduled to continue from 11:30 am to 5.00 pm, where Melania headed to the Ittehadeya Presidential Palace to meet with First Lady Sisi.
After that, Trump will visit to US Embassy in Cairo, the Grand Egyptian Museum, the pyramids and then return to Cairo airport to leave for Ireland.