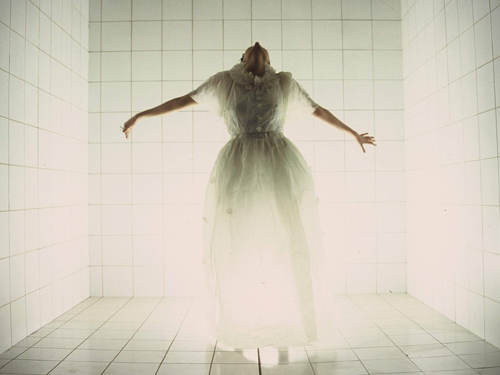 We first met almost 10 years ago on the street in front of the Townhouse Gallery; she was leaving, I had just arrived. I remember I was mesmerized, awestruck by her presence.
She introduced herself, I stammered. She appeared to me endlessly graceful. In knowing her — in knowing her work — it became evident that her calm outward demeanor was simply attire for the many temperaments, sentiments and impulses that informed the many characters she was.
In recent years, in her battle with cancer, she embodied patience and resilience beyond poetic melancholy; she taught me to regard the fragility of strength. Amal Kenawy was a remarkable artist and woman. Her inspiring presence will be carried on in memory, in the work she has left us with and in the many lives she entered as an artist, teacher and friend.
It was not long after our first meeting that I was fortunate enough to witness one of her early performances. "The Room" (2003), which I regard as one of her key works, left a lasting impression on me. I was still a student at the time, grappling with questions of art, feminism and locality, and negotiating questions of tradition and contemporaneity in everyday life, wondering what it means to grow up as a woman and an artist in Egypt.
"The Room" marked her language as an artist, earning her the recognition her work deserved. In years to come, she exhibited widely in Egypt and internationally. In 2004, "The Journey," a solo show of her work, took place at Townhouse. Two years later, Mashrabia and Karim Francis galleries respectively held further solo shows of her works, "Booby Trapped Heaven" and "Space." Her work was also included in a roster of biennials including Dakar (2004, 2006), Singapore (2006), Sharjah (2007), Moscow (2009) and Sydney (2010). In 2007, Darat al-Funun in Amman held a remarkable retrospective of her work, named after one of her works, "You Will Be Killed."
Going back to "The Room," it was one of the most striking performances in Egypt and in its time. Split between performance and video, Kenawy featured herself as the subject of the performance — twice. She sat in a white-tiled room, wore a simple white kaftan and head scarf, and was immersed in something, facing away from a voluminous, white wedding gown. Beside her was a video of sequences in which she in part appears, amid flashes of dream-like details.
Her double presence, in a white gown reminiscent of homes and hospitals, donning her characteristic tied-back scarf engulfed in carefully construed symbolism, Kenawy ever so slowly and delicately started embroidering an animal's pulsating heart. On the screen, a close-up image of her lace-gloved hands adorn the paining precision of focus, her fingers handling this heart, stitching an intricate web of lacework and pearls.
In its details, the performance is captivating and terrifying, its symbolism uncanny — it exceeds language. There are instances in which she appears to be levitating. As the subject, the object and author of the work, Kenawy emanates a distinct poignancy; she remains beautiful, a personification of delicacy and power.
The memory of this particular performance that I have retained is one of the most significant encounters I have had with an artwork.
Perhaps because it was a poem, an expression and a summation of untranslatable things, her experiences, her references, myths, histories, the symbolism of the work and its elements, as a woman, in the context of her practice, thinking with her body, across mediums, she was releasing herself into her performance and onto us as her audience into something that is otherworldly in terms of bringing such depth of meaning into form, into life.
In her drawings, sculptures and animations, Kenawy created a dream world made up of symbolisms, flowers, butterflies, animals, body organs, plants, flying birds. The language she created for herself as an artist is one of surrealism and other things. But when interviewed, as an artist, she was often shy of calling herself an artist, preferring to explain what she did in technical terms. She would say, "I make films" or "I make performances."
Conscious of being heralded as a feminist artist of the Middle East, her work became nuanced in new ways in recent years.
In time, I grew to know her and we became friends. For many years, she kept a studio at Townhouse, where we occasionally sat and talked about her work and her new projects, but also about life. Her mannerisms were always striking, and her words always carried love and intuitive wisdom — always encouraging of younger artists, teaching, sharing and persistently reminding me that what we did was important and that it was crucial to fight for what we want the most.
In 2009, I participated in the production of her work "Silence of the Lambs" for the exhibition "Assume the Position." The public performance stirred controversy; Kenawy choreographed a procession, mostly of men crawling on all fours across the Mahmoud Bassiony junction with Champollion Street, following her, with a boyish hair crop, dressed in men's pajamas.
This was the first of a series of planned non-performances she wanted to create in different parts of Cairo, tired of the confines of the gallery, of limitations of particular forms and signature. This was the only performance that was actualized of that series.
Kenawy had strong views on Egypt's political circumstances and in her capacity "simply as a person" wanted to bring this out to the street. She would risk her own safety and insist on her positions; confronting reason, she was an artist who trusted her instincts to the end of intention.
Her contribution to art since the late 1990s is on a par with artists I have come to learn about and admire, including O'Keefe, Hesse, Kahlo, Dali and those of her own generation in Egypt, including Wael Shawky, Amina Lela Mansour, Hassan Khan, Mona Marzouk, Bassam El Baroni and Shady El Noshokaty, amongst others.
Images are courtesy of Townhouse Gallery.