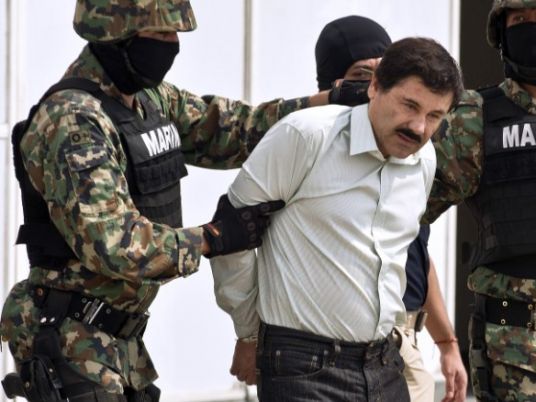 Mexican authorities have launched a manhunt to find drug kingpin Joaquin Guzman, who has broken out of prison again, the country's National Security Commission said Sunday.
Guards at the Altiplano Federal Prison discovered during a routine check on Saturday that Guzman, who known as "El Chapo," was missing, a statement from the commission said.
Guzman was captured in early 2014 after having eluded capture for more than a dozen years.
Guzman is the storied boss of one of the world's most powerful and deadly drug trafficking operations.
He escaped in 2001 from a high-security prison in a laundry cart, and was not apprehended again until February, 2014, when he was arrested at a Mexican beach resort.
Guzman wanted in the US
Guzman heads the Sinaloa cartel, which, according to an opinion piece by the author Don Winslow that was published last month by CNN, is by far the most dominant drug trafficking organization in Mexico today.
The heroin epidemic in the northeastern United States is supplied largely by the Sinaloa cartel, Winslow wrote.
In Mexico, the diminutive Guzman became a larger-than-life figure as he eluded authorities while expanding a drug empire that spanned the world. His life story became the topic of best-selling books and the subject of adoring songs known as narcocorridos.
In the United States, he is wanted on multiple federal drug trafficking and organized crime charges.
His nickname, which means "Shorty," matches his 5-foot-6-inch frame.
A second laundry-related escape
The statement from the National Security Commission said that, at 8:52 Saturday evening, surveillance cameras at the Altiplano federal prison saw Guzman approaching a shower area in which prisoners also wash their belongings.
When Guzman was not seen again for some time, officials checked his cell, found it empty, and issued an alert.
Altiplano is a maximum security prison in south central Mexico.
Officials not only launched a manhunt, they also closed Toluca International Airport, a 45-minute drive away.