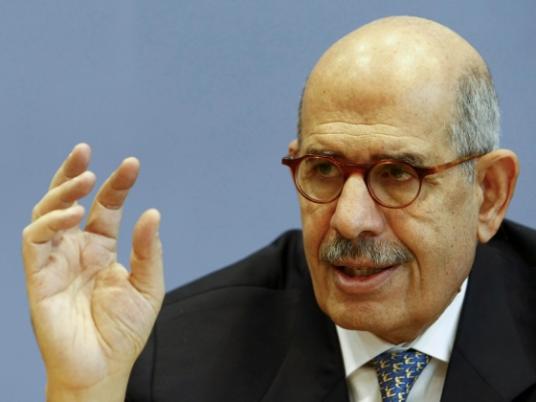 Mohamed ElBaradei, founder of the Constitution Party, on Thursday called upon the military council to postpone the presidential election in order to address the repercussions of the Supreme Constitutional Court's rulings that found both the Political Isolation Law and the law governing the parliamentary elections unconstitutional.
The Political Isolation Law would have stripped members of former President Mubarak's regime, including former Prime Minister and current presidential candidate Ahmed Shafiq, of their political rights. On Thursday, the Supreme Constitutional Court found the law unconstitutional, and Shafiq will still run in the final round of the presidential election against the Muslim Brotherhood's candidate Mohamed Morsy on 16 and 17 June.
The court also annulled some articles of the law organizing the parliamentary elections that ended last March. The ruling would cause the dissolution of the People's Assembly, which is dominated by the Muslim Brotherhood's Freedom and Justice Party with 47 percent of the seats.
ElBaradei, the former head of the International Atomic Energy Agency, said on Twitter, "To the military council: I call upon you to postpone the elections to contain the repercussions of the situation and for all of us to consult over the best paths to take the nation to safety."
Two solutions would get Egypt out of the current stalemate, ElBaradei wrote on Twitter. The first solution would be an agreement on a presidential council to form a Constituent Assembly to draft the constitution, and to form a national salvation government, he said. The second solution would be to elect a temporary president and a salvation government to form a committee to draft the constitution, and then hold parliamentary and presidential elections after the constitution has been drafted.
Edited translation from Al-Masry Al-Youm