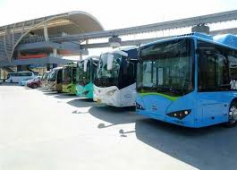 The Military Production Ministry concluded partnerships with the private sector to produce the first electric Egyptian bus that works with electricity, the Chairman of the Board of Directors of Helwan Metal Equipment Company (Military Factory 360), Taha Gomaa Abdel Gawad announced.

Abdel Gawad stressed the role of the Ministry of Military Production plays in supporting and developing the Egyptian economy, and having an effective role in the sustainable and comprehensive development of the state through multiple national projects.
 In his speech on behalf of the Ministry of Military Production, at a conference for the Egyptians Group for Development Association entitled "Strengthening Cooperation Between State Institutions and the Civil Society to Achieve Development Goals" at the National Museum of Civilization in Fustat, he explained that the Ministry of Military Production operates through five dimensions – foremost of which is industry as the ministry owns 16 industrial companies,
The other four dimensions are research and development, information systems, construction, training, rehabilitation and education.
Abdel Gawad pointed out that in recent years, the Ministry of Military Production was able to record many unprecedented achievements in various fields, whether military or civilian.
The ministry adopts a strategic plan for development based on increasing production by deepening local manufacturing, introducing new products, completing and rehabilitating production lines and human cadres, creating new units in the organizational structure of the ministry and its affiliated units, paying attention to digital transformation, and implementing vocational training programs, he explained.

He said that his ministry has adopted the implementation of national and vital projects in various fields with the aim of building a strong economy and infrastructure that Egypt has not witnessed for years in certain areas.

In the sports field, the Ministry of Military Production established sports stadiums, and in the environmental field, it established waste recycling factories in different governorates, as well as projects to operate wells in Toshka, he said.
The ministry also paved many roads in various governorates and took part in the construction of the Regional Ring Road, he added.