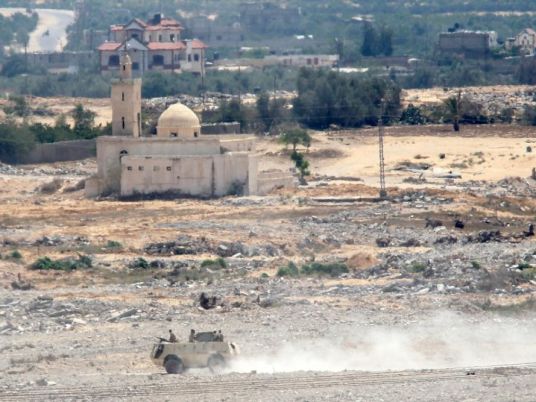 Security forces shelled parts of North Sinai's Sheikh Zuweid and al-Arish towns early Saturday, killing 23 suspected militants, military sources said.
Security forces received information about a "cell" in Sheikh Zuweid planning to conduct strikes during the Muslim Eid al-Fitr, sources said, adding that apaches shelled the area, killing six members of the "cell".
Nine suspected militants were killed in shelling which targeted Arish, the sources said.
Eight more were shelled in a different area of Sheikh Zuweid. Security sources said they belong to the Sinai-based Ansar Bayt al-Maqdis militant group.
The group, which changed its name to Sinai Province after pledging allegiance to Islamic State fighters last November, has claimed responsibility for the majority of militant attacks which occurred in Sinai since 2013.
Militancy inside Egypt has seen a significant rise since the military ouster of Islamist President Mohamed Mursi in July 2013, following mass protests against his rule. Most attacks target security forces in North Sinai.
On July 1, a number of security checkpoints and a police station in the town of Sheikh Zuweid were attacked by Ansar Bayt Al-Maqdis, in what was labelled as a failed attempt to take over the town.
The attacks claimed the lives of 17 army personnel and and no less than 100 militants, according to military figures.