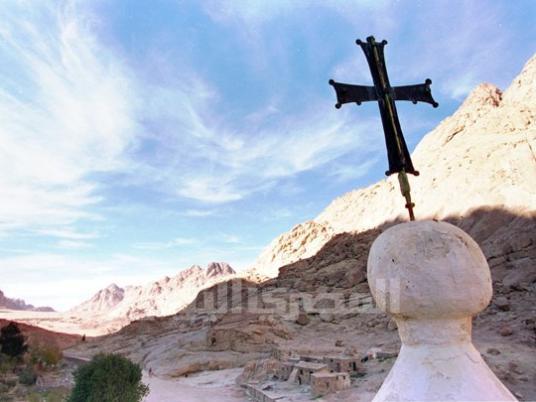 The Governor of Minya, Essam al-Bedewi, instructed the city's tourism committee to print a booklet providing information on the area of the Virgin Mary's Monastery, following the site's inclusion in the international religious pilgrimage in Egypt, by the Vatican's Pope Francis.
Al-Tayr Mountrain is considered one of the most sacred Christian sights, not only in Egypt, but in the world.
It is part of the route of the sacred family in Egypt. The church within the mountain was discovered by Queen Helena, mother of Emperor Costantine, in the year 324 AD, making it around 1675 years old. Helena ordered a church to be built on the sight of the discovery. The church's main nave is a piece of carved rock, and is used three times a year.
Bedewi also instructed Minya's media committee to prepare a short promotional film to highlight the latest renovations the site has undergone, as well as intended plans.
Bedewi had already conducted a meeting with the General Committee for the Renovation of the Sacred Family's Route within the Al-Tayr Mountain monastery, to follow up on renovations and devise a future plan.
Further, Bedewi emphasized that the general plan must be comprehensive in order to serve the residents of Minya and market the place in a way which highlights its greatest assets, not only to Egyptians but to the world, since the monastery is now included in the universal hajj map and will provide information for a range of audiences.
Not only that, but the governor also discussed with the General Committee of Samallout Center some of the biggest challenges regarding the renovation of Al-Tayr Mountain.
He also listened to suggestions from water companies about combating the challenge of water provision by producing a water and sanitation network, as well as a water treatment network.
Finally, the governor instructed both the traffic and roads committees to present a preliminary vision for direction signs and their cost, as well as the suggested locations on different roads that lead to the monastery.
Now that the Vatican acknowledged the church, it joins a list of sacred sites also approved by the Vatican such as: St Patrick's Church in Vatican, the East Orthodox Churches including Aya Sofia in Turkey and St George in Istanbul, the East Christian sites such as Antakya city in Turkey and the Westminster Monastery, as well as Protestant sites including the Anglican Church.