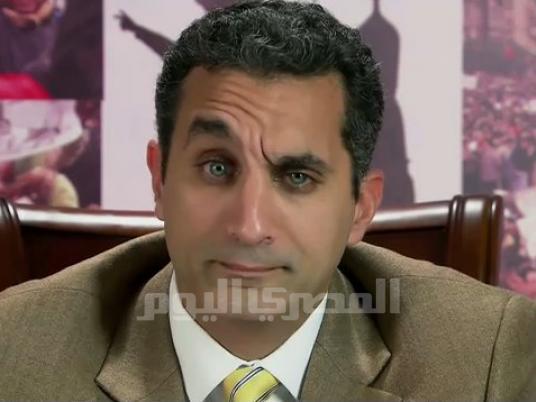 Monday's papers are replete with news pertaining to the legal investigations against TV comedian Bassem Youssef, who is charged with insulting President Mohamed Morsy and Islam. Also topping the news is a nationwide railroad workers' strike scheduled to commence today, alongside news about conservatives' protests against Iranian tourists in Egypt amid a wave of anti-Shia sectarian sentiment.
Youssef, commonly described as being Egypt's Jon Stewart, was the target of an arrest warrant from the Public Prosecution on 30 March. Youssef appeared for questioning at the prosecution's office Sunday and was released on LE15,000 bail, pending investigations.
Privately owned Al-Watan newspaper's subheadline for its main story on Youssef's court appearance reads "American media: Bassem is a serious threat to Morsy's regime." The article mentions that both the New York Times and Washington Post made this claim, and also highlights episodes six, 12, 14 and 14 of Youssef's "al-Bernameg" ("the program") that are singled out as defaming Morsy and Islam.
On its front page, privately owned Youm7 newspaper runs a large photo of the comedian donning an extra-large version of the hat recently worn by Morsy in Pakistan when he was awarded an honorary doctorate degree. "Bassem Youssef confronts the general prosecutor while wearing the president's pot."
The paper reports that Youssef's supporters thronged him while he posed for photos wearing the gargantuan black hat outside the Public Prosecution's office. Supporters also yelled slogans against Morsy and Prosecutor General Talaat Abdallah, chanting "the people demand freedom of the media."
Meanwhile, privately owned Al-Shorouk newspaper writes that "Bassem Youssef prepares his upcoming episode with footage from his investigations by prosecutors," and adds that the episode is expected to draw a record audience Friday.
In other news, today's papers are reporting on a fresh nationwide railway workers' strike that a comprehensive work-stoppage by train drivers, conductors, fare-collectors, along with service and maintenance personnel all across the country.
Al-Watan runs a headline reading: "Egypt's trains sound the whistles of the revolution at midnight," while state-run Al-Akhbar writes "Egyptian National Railways Authority (ENRA) resorts to army to operate trains."
Al-Akhbar reports that the ENRA's train drivers, conductors, fare-collectors, service and maintenance workers had failed to reach an agreement with authorities on Sunday and thus are embarking on nationwide work-stoppages. The article mentions that striking workers have opted to stay home rather than protest at their workplaces, to avoid confrontations with passengers and commuters.
Al-Akhbar also mentions the workers' unmet demands, which include a meager payment of nine piasters (around one US cent) for each kilometer a train driver covers and paid weekends and holidays for all ENRA workers. Other demands include hazard payments, safe working conditions, repairs to locomotives, air-conditioners for train operators and better maintenance of train carriages, machinery and tracks.
The state-owned paper quotes the chief of the ENRA as saying "we will not have our arms twisted" by the striking workers or their demands. Al-Akhbar adds that railway traffic will not be affected by the strike, as plans have been prepared for army engineers and workers to operate the trains.
In other developments, a rising tide of conservative, anti-Iranian and anti-Shia sentiment is making headlines. Conservative Sunnis and Islamists have been protesting the arrival of Iranian (Shia) tourists to Egypt — despite the recent détente between Morsy and Iranian President Mahmoud Ahmadinejad.
Youm7 runs a photo of hard-line conservative Islamists and Salafis protesting outside Al-Azhar student dormitories in Eastern Cairo on Sunday, the protesters carry banners and signs reading "We refuse the presence of Iranian Shias in Egypt," among other sectarian slogans.
This newspaper also runs a headline reading "Salafi Front: Brotherhood's announcements regarding Iranian tourism in Egypt are provocative and ignorant." A spokesman for the Salafi Front denounced the warming of relations between Egypt and Iran while warning against "the spread of Shia doctrines in Egypt," which he describes as being "polytheistic."
Al-Tahrir reports that a group of 46 Iranian tourists arrived in Aswan on Saturday — the first direct commercial flight from Iran to Egypt in over 30 years. The Egyptian tour operator deemed the trip a success, adding that the Iranian tourists had visited the Aswan High Dam, the Philae Temple, and were planning a Nile cruise to Luxor and then a trip to the Red Sea resort town of Hurghada.
Tour operators mentioned that, given the icy relations between Iran and Egypt over the past few decades, there are as of yet no Egyptian tour guides capable of speaking Farsi.
Egypt's papers:
Al-Ahram: Daily, state-run, largest distribution in Egypt
Al-Akhbar: Daily, state-run, second to Al-Ahram in institutional size
Al-Gomhurriya: Daily, state-run
Rose al-Youssef: Daily, state-run
Al-Dostour: Daily, privately owned
Al-Shorouk: Daily, privately owned
Al-Watan: Daily, privately owned
Al-Wafd: Daily, published by the liberal Wafd Party
Youm7: Daily, privately owned
Al-Tahrir: Daily, privately owned
Al-Sabah: Daily, privately owned
Freedom and Justice: Daily, published by the Muslim Brotherhood's Freedom and Justice Party
Sawt al-Umma: Weekly, privately owned
Al-Arabi: Weekly, published by the Nasserist Party
Al-Nour: Official paper of the Salafi Nour Party