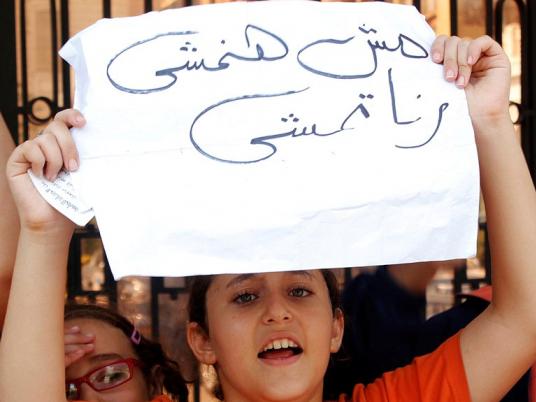 Dozens of Monufiya University students staged a protest Tuesday in front of the school's Faculty of Law to protest the cancellation of a discussion hosted by activists Alaa Abdel Fattah and Khaled Tellaima.
In an act of defiance, Abdel Fattah and Tellaima held the talk in front of the dean's office.
Abdel Fattah, Tellaima and the Monufiya Tagammu Party's Secretary Haitham al-Sharaby led the march to the dean's office, with followers chanting "Down with the supreme guide rule" and "Where are you freedom? The Brothers are between us and you."
Many protesters accused the university of halting the talk due to political pressure from the Muslim Brotherhood.
Abdel Fattah said several seminars he's been scheduled to host had been cancelled following the 2011 revolution.
"Cancelling the seminar is not legal at all and is not acceptable, as the seminar is not considered a partisan activity to be prevented," Abdel Fattah said.
"The decision to ban partisan activity in universities is unacceptable and restricts the freedom of students and [leaves] universities in the grip of the Brotherhood," he added.
"The president and his group are on shaky ground and their downfall will be very soon," Tellaima said.
He went on to criticize the university's administration, describing it as "a slave to routine used by the ruling regime to stop the youth revolution."
"The one cancelling the seminar is not Mohamed Morsy. It is [the Brotherhood] that seeks empowerment," Tellaima said.
Rifaat al-Badri, the media adviser at University of Cairo, said the administration had to cancel the seminar because the organizer did not notify the Youth Welfare Department ahead of time, contending the talk was not cancelled for political reasons.
Edited translation from Al-Masry Al-Youm