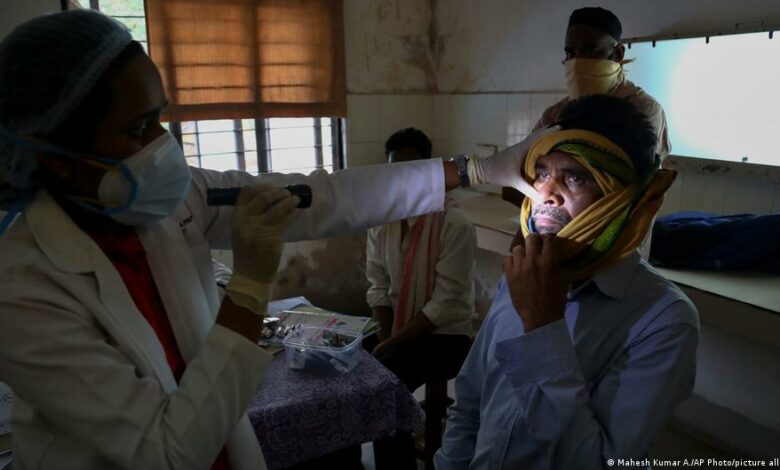 Earlier this week, rumors spread about the death Egyptian actor Samir Ghanem, with his brother confirming that Ghanem had contracted a black fungus infection after recovering from coronavirus.
He added, "Samir was infected before his death with black fungus in his right eye, and this is one of the worst things that a person can be exposed to."
Panic arose in light of the news, but the Ministry of Health denied the allegations, saying that Egypt had not yet recorded any cases of black fungus.
On Tuesday, Amira Mounir from Fayoum, said that her mother and father had contracted the virus weeks ago. Her father died of his infection, while her mother, 62, was still suffering from complications from the disease, as she suffers from migraines and pain on the right side of her jaw and teeth.
Mounir added, in press statements, that her mother's left eye began to weaken until it closed completely. That was followed by numbness on the left side of her body. After the pain increased, she visited specialty doctors but was unable to obtain a diagnosis.
She said that her mother was detained in a private hospital in Fayoum, adding that the ophthalmologist, after examining her, said, "The eyeball and its bottom are in good condition, but there is a problem with its nerves." Another doctor said that she had a problem with the fifth, sixth, and seventh nerves in her face.
Mounir continued, saying that her mother, before being held in the private hospital, was examined by a consultant for neurology, who said that she was infected with the black fungus and should be treated by a doctor specializing in otolaryngology.
The health authorities in Fayoum imposed a media blackout on the details of the infected woman's case. An official source in Fayoum said that the giving details about the subject without a doctor's treatment for the case would be "sensitive ", especially because the claims started on Facebook. 
The source added, to Al-Masry Al-Youm, that the case is still under investigation, and there is no confirmation that it was black fungus.
The source stated that the woman is inside a private hospital in Fayoum, and called on the media to be careful in circulating medical information.
Edited translation from Al-Masy Al-Youm
IMAGE: A doctor checks a patient who recovered from COVID-19 but is now infected with "black fungus" at the Mucormycosis ward of a government hospital in Hyderabad, India.