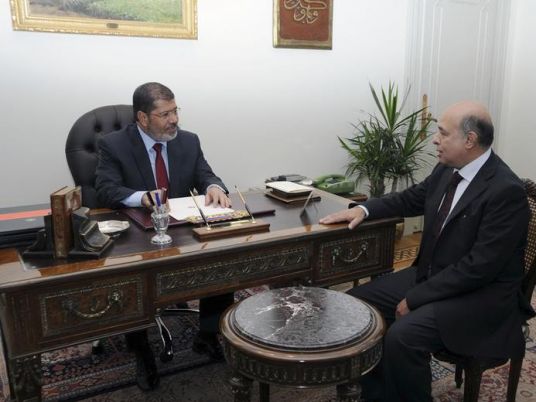 The Cairo Criminal Court sentenced on Wendesday one of the aides of ousted Islamist President Mohamed Morsi to three years in prison for appointing a convicted man at the presidency during Mursi's tenure.
Rifaa El-Tahtawi, Morsi's chief of staff, was also ordered to pay a fine worth LE36,052 for "forging documents" and appointing a convict. The convicted man, al-Sayed Rifai was also sentenced to a year in prison and fined an equal amount of money.
Egypt's top prosecutor referred Tahtawi to court in October 2014 for "illegally" appointing a convicted "terrorist" at the presidency during his tenure.
Rifai is a convicted "terrorist", the prosecution had said in a statement. He served 15 years in prison for crimes which include joining a "terrorist" organization, torching, vandalizing, possessing arms and attacking citizens, among other charges.
The prosecutor general accused Tahtawi of violating the rules of appointing presidency staff since he appointed Rifai without running a background check on him. When Tahtawi's deputy pointed out in a memorandum that Rifai is not eligible for the post due to his earlier conviction, the prosecutor said, the chief of staff disregarded the memorandum and insisted on the appointment.
Tahtawi is not an official member of Morsi's Muslim Brotherhood, which was listed by the government as a terrorist organization in December 2013. He is a former spokesman of Egypt's top religious authority Al-Azhar. He also served as a diplomat within the foreign ministry.
The presidential aide is already facing trial, alongside Morsi and 34 others, for espionage, disclosing state secrets to foreign countries, funding terrorism, conducting military training to serve an international branch of the Brotherhood, and "endangering the independence, unity and safety of the state."