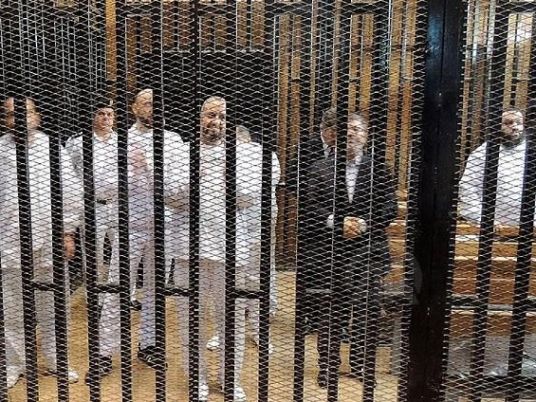 The investigation panel appointed by the Cairo Appeal Court referred ex-President Mohamed Morsy and 25 others on Sunday to the Criminal Court for charges of "insulting the judiciary."
Suspects are accused of allegedly influencing judicial authority while reviewing a lawsuit, insulting judges, affecting the public in favor of one party involved in a lawsuit against the other and publishing issues that could affect judges.
The suspects include Morsy and Mohamed Saad al-Katatny, a former parliamentary speaker. The suspects also included the following former MPs: Gamal Gebreel, Essam Sultan, Mohamed al-Beltagy, Sobhy Saleh, Mohamed al-Omda, Mostafa al-Naggar, Hamdi al-Fakharany, Mahmoud al-Saqqa, Amr Hamzawy, Mamdouh Ismail.
Other suspects included: Taher Abdel Mohsen (former deputy of Shura Council legislative committee), Mohamed Mahdi Akef (former Muslim Brotherhood supreme guide), Mahmoud al-Khodeiry (former chief of the parliament's legislative committee), lawyers Mohamed Moneeb and Montasser al-Zayat, abdel Haleem Qandil (writer), Nour Eddin Abdel Hafez (media professional), Ahmed Hassan al-Sharqawy (journalist for the state-run news agency MENA), Tawfiq Okasha (media professional), Amir Salem (lawyer), Assem abdel Maged (member of Jamaa al-Islamiya Shura Council), Wagdy Ghoneim (preacher), Noha al-Zeiny (vice-chief of the administrative prosecution authority), Abdel Rahman Youssef (media professional), Alaa Abdel Fattah (activist), and Mohamed Mahsoub (former minister of state for legal affairs and parliamentary councils).
Interrogators accused Morsy of insulting the judiciary when he accused 22 judges of rigging the 2005 parliamentary elections and naming Judge Ali al-Nemr as well as trying to influence a court review of the lawsuit against former Prime Minister Ahmed Shafiq and others. He is also accused of interfering with prosecution work.
Edited translation from Al-Masry Al-Youm