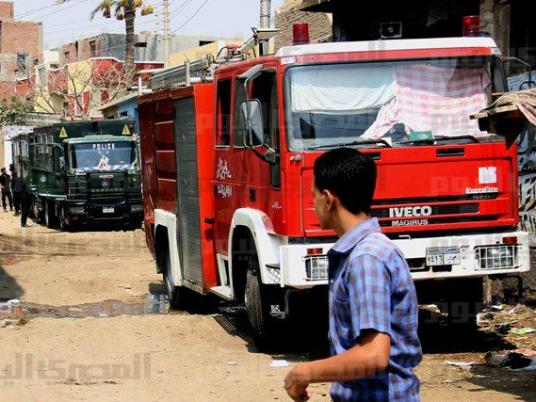 President Mohamed Morsy has vowed that he will enforce the law after sectarian clashes in Dahshur, about 40 kilometers south of Cairo, in which one Muslim was killed and at least 16 people, including 10 police officers, were injured.
Morsy said that what happened in Dahshur doesn't reflect the brotherly spirit between Muslims and Copts, before calling on Muslims to provide security for Copts.
"I call on my Muslim brothers and my Coptic brothers to return to each other and for my Muslim brothers to provide security for the Copts."
His call came after some 120 Christian families in Dahshur were evicted after the sectarian violence, which resulted in the death of a Muslim man.
This is the first case of sectarian violence since Morsy took office as the first Islamist president of Egypt.
"No one can accept that a brother attacks his brother," Morsy said after Friday prayers in the Upper Egyptian city of Qena.
Shura Council Speaker Ahmed Fahmy agreed to Minya MP Hilaslasy Ghany Mikhael's proposal to form a committee to make peace in Dahshur and return Copts to their homes following the clashes.
The committee would include eight Shura Council members: Mikhael, Salah Eddin Abdel Salam, Hassan Youssef, Mohamed Saad al-Mangy, Mohamed Hassan Abdel Baqy, Abdel Azim Abu Aisha, Ehab al-Kharat and Mohamed al-Fiqqy.
Mikhael said the main purpose of the committee is to calm the situation and try to mitigate the negative effects of the events, adding that the committee will head to Dahshur at 7:30 pm on Friday.
A Family Home delegation headed by Al-Azhar Grand Sheikh Ahmed al-Tayyeb and the acting Pope Pachomius requested a meeting with Morsy as soon as possible and called the interior minister for a meeting at Al-Azhar.
The Family Home council issued a statement Friday calling for applying the law strictly on those implicated in the Dahshur violence to prevent the recurrence of such incidents. The statement also called for a meeting with the interior minister, information minister, endowments minister and culture minister to discuss preventive measures they could take against sectarian incidents.
The statement offered condolences to the family of the victim and called for compensating those whose private property was damaged.