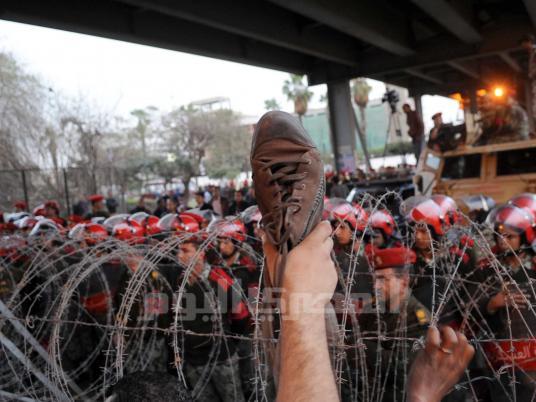 The National Alliance in Defence of Legitimacy, a group of supporters of deposed President Mohamed Morsy, has announced plans for a series of marches Sunday in protest against what they call the 3 July military coup.
Two demonstrations will head to the Defence Ministry and a number of embassies, including the U.S. embassy in Cairo's Garden City.
The group, in a statement published on the website of the Muslim Brotherhood's Freedom and Justice Party, said protesters will rally against the murders of three women in Mansoura, Daqahlia, on Friday night, after clashes erupted between Morsy supporters and opponents.
The marches will reiterate the pro-Morsy cam's rejection of "the military coup against legitimacy."
The statement said one march by female protesters will set off from Nour Mosque in Abbasseya to the Defence Ministry.
A second will leave Cairo University for the National Human Rights Council, and a third march will head to the U.S. embassy to "expose the embassy's and the U.S. administration's role in planning and supporting the military coup against democracy, and to demand the dismissal of the U.S. ambassador [Anne Patterson]."
The alliance statement revealed that other protests will head to Cairo's diplomatic enclave, Zamalek, to "expose the West's role in the coup."
Morsy supporters have staged a series of sit-ins, most notably at Rabea al-Adaweya Square in Nasr City and Nahda Square in Giza, to denounce the removal of the former president by the army two weeks ago following massive protests demanding early elections on 30 June.
Edited translation from Al-Masry Al-Youm