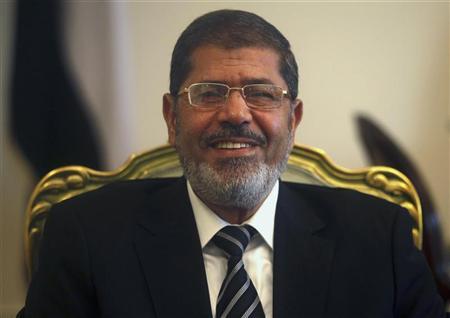 President Mohamed Morsy said he is concerned about the level of criticism directed at the judiciary, and demanded that inspection bodies determine is anyone was violating the law, while preserving the separation of powers.
In an exclusive interview with Al Jazeera channel on Saturday night, Morsy said, "I hear the word 'cleansing' in a concerned context. This is a legitimate concern people have when sometimes the justice in judicial rulings is not clear in the way people can see it."
The president said that he aims to stop "any kind of confusion between the authorities or aggression of one authority over the other."
Morsy's statements come after Friday demonstrations organized by the Muslim Brotherhood and other Islamist groups demanded a "cleansing" the judiciary and amendments to the Judicial Authority Law.
Demonstrations, which were boycotted by opposition parties, secular groups and some other Islamist groups and parties, condemned the potential release of former President Hosni Mubarak at the end of his detention period pending the case accusing him of failing to prevent the killing of demonstrators in the revolution of January 2011.
"Patent rulings, issued against symbols of the former regime, worry people." Morsy said. "The judge might be just in his rule, according to information or evidence available before him."
Morsy also said that the Muslim Brotherhood does not interfere with presidential decisions, saying, "there is no room for any pressure exercised in this area."
"I change my decision, this is normal," Morsy said, referring to situations where he goes back on a decision after it appears to not be in the public interest.
Edited translation from MENA