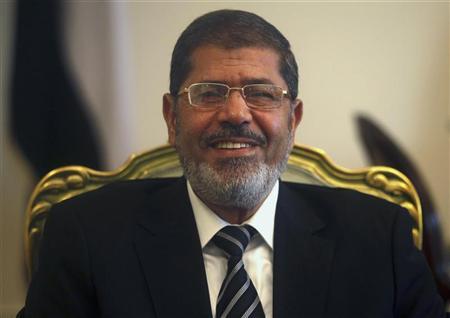 The interrogation of ousted President Mohamed Morsy in the case of the Wadi al-Natroun prison break, which took place during the events of the 25 January 2011 revolution, began Monday.
Morsy and other Muslim Brotherhood leaders escaped the Wadi al-Natroun prison at the time, according to the investigation. They now face charges of contacting foreign elements, in particular members of Hamas, to break into the prison and free them.
Hassan Samir, the judge in charge of the investigation, questioned Morsy at the place at which he is being held.
The judge said that no decision to imprison Morsy has yet been issued. An investigation is still ongoing. Morsy, however, is being detained pending investigations by the National Security Agency and military intelligence.
The judge unequivocally denied having imprisoned Morsy for 15 days pending the investigation, as was published by state-run newspaper Al-Ahram on Monday.
Samir refused to disclose the contents of Morsy's first interrogation session due to confidentiality and legal reasons relating to the investigation process. He will, however, announce the details of the case within three days.
Judicial sources said that the judge had only inquired about Morsy's health, had asked him for the name of his lawyer, and had requested that he respond to the charges being made against him.
Samir sent a letter on Monday to the Ministry of Information and the Ministry of Justice, asking them to ban the publication of any news regarding the investigation into this case that involves Morsy and 34 other Brotherhood leaders. The ministries have yet to respond to this request.
Samir, who was tasked by the Justice Ministry to investigate prison breaks, ordered a gag on press, broadcast and TV reports in relation to the case.

He told state-run news agency MENA that the decision would ensure national security was protected and the integrity of the probe maintained.
Edited translation from Al-Masry Al-Youm