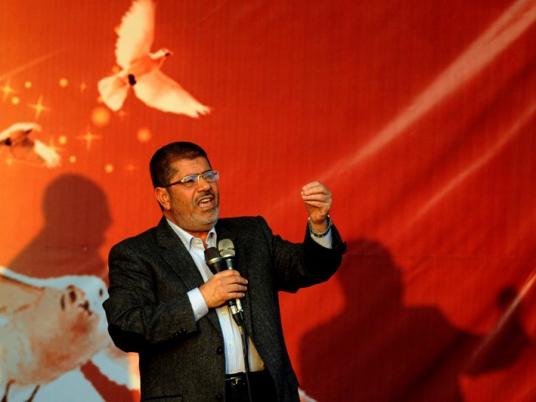 President Mohamed Morsy is optimistic that Egyptians will overcome the current political instability caused by his recent constitutional declaration, presidential spokesperson Yasser Ali said Monday, as the only woman on the Constituent Assembly's drafting committee withdrew from the constitution-drafting body.
He added that the declaration does not mean the president intends to dominate the judiciary.
"[The 22 November declaration] is allowed under legislative powers granted to the president by the 12 August constitutional declaration," Ali said. "The president explained this in his meeting with the Supreme Judicial Council, during which he assured his respect for the judiciary."
"The declaration aims to achieve economic stability and social justice, and to form an elected parliament that reflects the aspirations of the people," Ali told reporters after Morsy's meeting with Arab justice ministers on Monday.
"It also aims to end the transitional phase as soon as possible," he said. "If the president was seeking absolute power, he would have extended the transitional period."
"The transitional period will never end if we do not have a constitution and a Parliament," he added.
The presidential spokesperson stressed that, "Democracy means respect for the opposition, which we have … But we wish there had been no casualties." He said the president ordered investigation into the deaths of two protesters over the past days, one in Cairo and the other in Damanhour.
Ali added that there is no time left for disagreement within the Constituent Assembly. "There are only eight or 10 contentious points in the constitution," he said. "And the president gave more time for the assembly to resolve them."
Manar al-Shorbagy, professor of political science at The American University in Cairo, announced Monday that she left the assembly in protest against Morsy's decree.
Shorbagy's withdrawal came after a series of resignations last week in objection to Islamist domination over the assembly. Representatives of churches, liberal parties, youth movements and the Journalists Syndicate have withdrawn.
Edited translation from Al-Masry Al-Youm