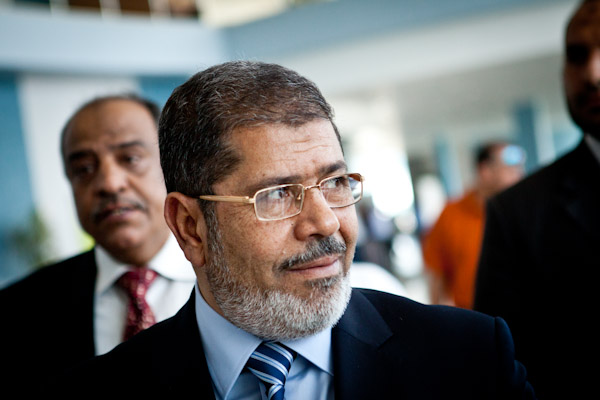 President-elect Mohamed Morsy moved into the office once occupied by ousted leader Hosni Mubarak and started consultations Monday over the formation of his presidential team and a new government, an aide said.
Elections officials on Sunday declared Morsy the winner of the country's first free presidential election in modern history, following a tight race with Mubarak's last prime minister, Ahmed Shafiq.
The campaign had deeply polarized the country, pitting a former regime official and former military man — feared to be a continuation of Mubarak's autocratic rule, but viewed by some as an agent of stability — against an Islamist.
Many supported Morsy as a representative of the uprising that toppled the old regime and a chance to challenge the military. But Morsy was equally feared among youth groups behind the uprising that campaigned for a secular democratic state, and among many belonging to the country's Christian minority. Almost half of Egyptian voters boycotted the runoff vote last weekend.
Morsy's victory is a stunning achievement for the Islamist group, which remained for most of its eight decades a shadowy organization targeted by successive regimes. He pledged he would be a "president for all Egyptians."
Now, Morsy faces a daunting struggle for power with the country's still-dominant military rulers who took over after Mubarak's ouster in the uprising.
Just days before a winner was announced, the ruling generals made a series of decisions that gave them sweeping powers undercutting the authorities of the president, including passing the state budget. The generals also granted military police broad powers to detain civilians.
The military council, which promised to transfer power to an elected leader by 1 July, says the moves were designed to fill a power vacuum and to ensure that no one person monopolizes decision making until a new constitution is drafted.
Two days before the runoff, a decision by a top Egyptian court packed with former regime appointees dissolved the country's first freely elected Parliament, which was dominated by Islamists. This left the military council in charge of legislative duties.
With Parliament dissolved, it is not clear where Morsy will be sworn in. Authorities say he could be sworn in before the country's highest court, but his group and supporters are pressing for Parliament to be reinstated, arguing that the court decision only dissolved a third of the parliamentary seats.
Thousands of Morsy supporters, backed by some liberal and secular youth groups who were behind the uprising, vowed to press on with their protest in Cairo's Tahrir Square to pressure the ruling generals to rescind their decrees and reinstate Parliament.
Tens of thousands had spent the night in Tahrir in joyous celebration of Morsy's win. By Monday morning, few had stayed in the square, which after nearly a week of sit-ins was reopened for traffic but a protesters' tent camp remained in place. Brotherhood officials said the protests would continue until the military responds to their demands.
On Sunday, President Barack Obama telephoned Morsy to congratulate him on his victory and offer continued support for Egypt's transition to democracy. The White House said Morsy expressed appreciation for Obama's call and "welcomed US support for Egypt's transition."
Ali said the 60-year-old Morsy arrived at the presidential office on Monday for official meetings and consultations. He said his priority is to form a working presidential team until he finishes consultation over nominating vice presidents.
"His priority is the stability on the political scene," said Yasser Ali, a spokesperson for Morsy's presidential campaign.
In an effort to rally support and heal national divisions, Morsy vowed to appoint diverse deputies, including a woman and a Christian. He also has reached out to other presidential hopefuls who garnered popular support in the first round of the election.
Ali said there were also consultations to form a national coalition government. The military-backed Cabinet is expected to resign later Monday, according to legal tradition after a new president is announced. Ali said he anticipates the Cabinet, headed by Prime Minister Kamal al-Ganzouri, would remain in a caretaker role because forming a new one "will take time."
Morsy faces the enormous challenges of improving the economy and maintaining law and order, both of which deteriorated in the post-Mubarak period. He has also promised he would nominate a non-Brotherhood member to head the government.