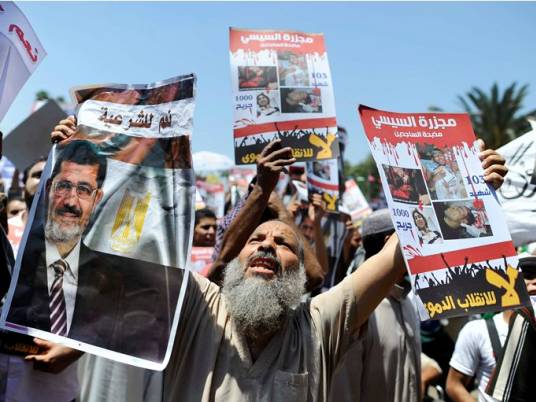 Morsy supporters camped in al-Nahda Square in Giza on Sunday threatened to destroy the main power stations all over the country, in protest against the ousted president's detention.
"We will make it dark," said Mostafa al-Saeed, a protester. "It is an escalation against the government of the coup."
More than ten marches coming from different parts of Cairo have arrived in the square.
One march coming from Kit Kat district was assaulted by residents, causing injuries to dozens on both sides.
Islamic preacher Gamal al-Araby announced from the podium that a message he claimed was sent to him by Emad Abdel Ghafour, Morsy's assistant, said that Defense Minister Abdel Fattah al-Sisi had offered Morsy a safe exit in return for ending the protests. "But Morsy turned it down because he is the legitimate president of the country," he said.
He called on the protesters not to talk with anyone from the presidency or the army. "Stay in the square until the end," he said.
The military and the police increased their presence around the entrances and exits of the square to avoid possible clashes.
Edited translation from Al-Masry Al-Youm