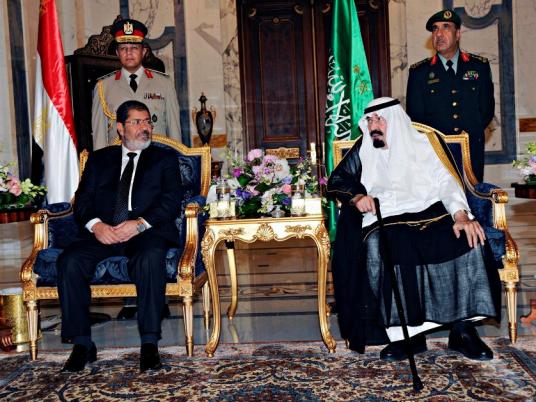 President Mohamed Morsy and Saudi officials discussed, during meetings in Jeddah, the cases of Egyptians detained in the kingdom's prisons, as well as Saudi investments in Egypt and job opportunities for skilled Egyptian workers.
Morsy arrived in Saudi Arabia Wednesday for his first official state visit as president and returned to Cairo on Thursday evening.
Regarding the detainees, Morsy's spokesperson Yasser Ali anticipated, "there will be good news soon," state news agency MENA reported Thursday.
Ali described a meeting between Morsy and Saudi King Abdullah bin Abdul Aziz on Wednesday as "full of amiability and understanding," and said the two sides are keen on improving cooperation.
Morsy also discussed ways to increase Saudi investments in Egypt with Crown Prince Salman bin Abdul Aziz. The crown prince, according to Ali, proposed that after Egypt's new government is in place, officials and businessmen from both countries should hold further meetings to review investments and aspects of bilateral cooperation.
Facilitating Hajj and Umra pilgrimage procedures was also discussed during the talks.
There are an estimated 1 million Egyptians living in Saudi Arabia. Morsy is scheduled to meet with 300 of the community's representatives on Thursday.
Edited translation from MENA