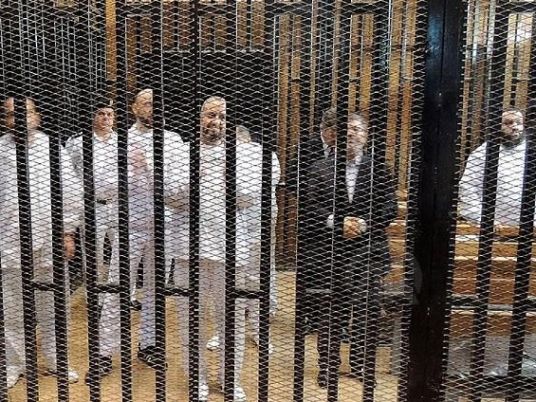 Ousted President Mohamed Morsy is currently staying in a two-room suite in Borg al-Arab prison, according to his lawyer Ayman Nahed. One room can receive visitors.
Nahed posted on his Facebook page on Tuesday that Defense Minister Abdel Fattah al-Sisi met with Morsy on 2 July and informed him: "He would perform a coup and that he cannot do anything due to the poor circumstances in the country."
According to Nahed, Morsy rebuked him and considered "the coup for their sake, not for the people's interests."
On the following day, 3 July, "the military took control of the palace. Presidential guards apologized for being unable to face the coup. Everyone inside the palace was ordered out. The president's personal guard was dismissed."
Morsy was transferred to a naval base on 3 July, when the military announced the overthrow.
No news of Morsy's whereabouts was released after that.
Nahed said that ambassador Mohamed Refaa al-Tahtawi, Morsy's former assistant, "insisted on staying with the president and refused to leave. When they forcibly took him away, he insisted on staying with the president."
"He used to spend the nights with him in the room," Nahed added.
After transferring Morsy to the naval base, "they [his captors] met him and tried to get a confession about what was happening. They said they were ready to provide him with whatever he wants, even a palace at any place. However, he rejected and said he will never betray his people and country."
"When [Catherine] Ashton [European Union foreign policy chief] visited him, Morsy learned that protests were sweeping across Egypt, which made him more determined. Ashton tried to convince him to resign and that the Muslim Brotherhood should engage with the political process, but he refused," Nahed said.
"Morsy then knew the news. He learned about the dispersals of the Rabaa al-Adaweya and al-Nahda sit-ins, which made him even more determined."
Nahed said that Morsy, "did not hire anyone to defend him. He refused the trial." He considered it "illegitimate."
Morsy "only hired lawyers to take legal measures against the coup leaders to bring them to trial… Reports will be filed against the coup leaders," Nahed added.
Edited translation from Al-Masry Al-Youm