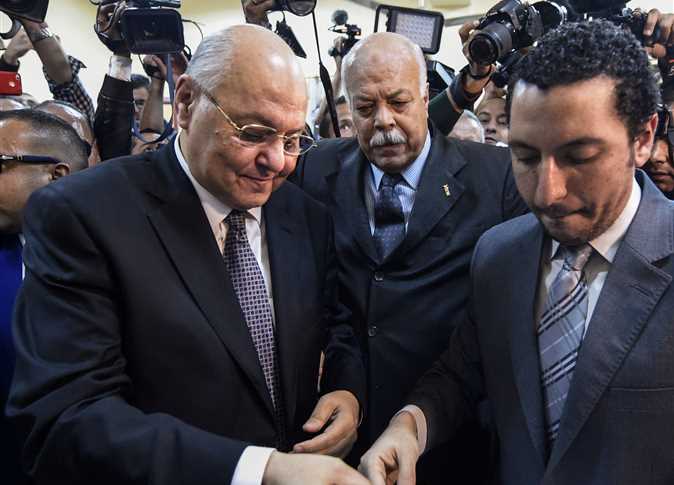 Presidential candidate and Head of the Ghad party Moussa Mostafa Moussa cast his vote in the downtown Cairo area Abdeen on Monday amid intensive media coverage, and accompanied by some party leaders.
In statements to media reporters, Moussa said that the turn-out was good and would increase in the next two days, and that Egypt needs such a turn-out to confront the dangers of terrorism and conspiracies against Egypt.
Only two competitors are in the running for the presidency: current President Abdel Fattah al-Sisi, and Moussa. The election continues through until March 28, from 9 am to 9 pm.
According to the National Election Authority (NEA), 59.78 million Egyptian are eligible to vote in the election. 18,000 judges are supervising the election.
Moussa added that the campaign has representatives in most of the polling stations following with the NEA, and they had not monitored any violations or irregularities.
Moussa said that he expects an increasing turnout during the next two days, which is needed.
He added that the outcome of the elections is destined by God, "but I run the election with honor, and whatever the result, I'm satisfied with it and what is required is the large electoral presence."
"I see great awareness among the Egyptians against all calls for boycotts," he continued, "and we have to move together in one direction to move the elections in a proper direction. I expect the turnout to reach a large percentage," said Moussa. He expected that the turnout rate would exceed 50%.
"My vote today is for the Egyptian citizen and not for a particular candidate. I call on young people go and participate in the elections. No one can ever make this country fall. Egyptians will never allow any person, country, or entity to destroy it," he said.
He concluded his remarks by saying "I did my best and success is from our Lord, and I'm optimistic about the result, and I say to the Egyptians: this is your country, you are the real candidates."
Edited translation from Al-Masry Al-Youm