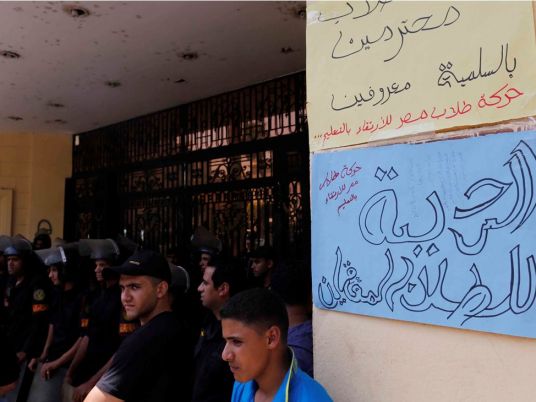 Security troops dispersed on Tuesday a protest by high school students outside the Education Ministry. Teargas canisters and bird shots were fired against students who were calling for dismissal of the minister Mahmoud Abul Nasr and reforming the education system.
Mostafa Ismail, one of the coordinators of Educate Us Well movement, said security arrested 22 protesters who took part in the demonstration against policies of the exams, frequent cases of cheating and leakage of exams.
"Security arrested 22, including 15 male students and 7 females. Caller for the protest Mostafa Attia was arrested along with Mazen al-Masry and Youssef al-Emirati," Ismail told Al-Masry Al-Youm.
"The students took part without having intentions to cause damages at the place or the ministry building. Our goal was noble. We sought reforming the education system."
Ismail denied presence of Muslim Brotherhood students in the protest. "We were said to be affiliated to the Muslim Brotherhood, so security services would take it a reason to disperse the march and not carry out the demands."
Ismail called for releasing the detained students, especially that they are minors. "We wished that someone from the ministry had talked to us instead of arresting us."
After students shouted slogans, the minister then instructed the ministry's spokesperson to form a group of officials to negotiate with the students. Half an hour later, the negotiations failed as the students refused to negotiate with anyone but the minister.
Edited translation from Al-Masry Al-Youm