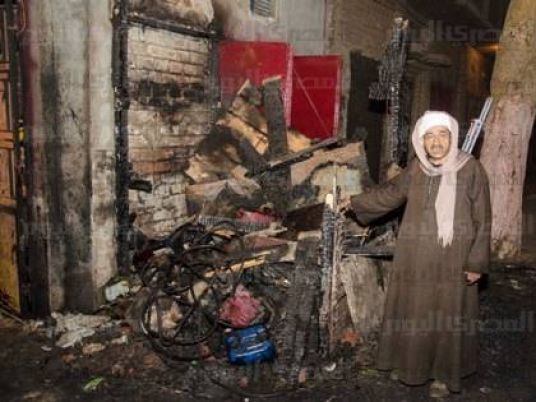 MPs from Minya governorate intervened on Monday to calm tensions in the village of Asem, on the outskirts of Minya city, after clashes between Muslims and Christians during Eid al-Adha.
The clashes have resulted in the smashing of a car and one person injured after a fight in the street, with prosecutors conducting an investigation and questioning suspects.
The lawyer for Muslims suspected of involvement said that a delegation of MPs, including MP Sayed Abo Brede'a and al-Omda Osman, arrived at the village and met with both sides in an effort to arrange a reconciliation
The clashes started during Eid al-Adha after an altercation between two young men over a donkey cart. The disagreement developed into a fight, with stones being thrown, during which one man was injured and a car was damaged.
In the wake of the clashes, police cordoned off the village and arrested 37 suspects, 20 of them Muslim and 17 Christian.
Christians in the village say that a hair dressing salon was set on fire, along with three animal enclosures.
A source with Minya Archbishopric told Al-Masry Al-Youm that the same village witnessed clashes between Muslims and Christians on July 19, after a young Muslim man went swimming naked in front of a Christian woman in the Bahr Yussef canal.
The tensions in July ended with a reconciliation session between the families of the woman and the young man, and Minya Archbishopric said that the incident was not motivated by sectarianism.
Minya has been the scene of several sectarian clashes recently. Over a month ago, a young Christian man was killed and three others injured in a knife-fight in the village of Tihna al-Jabal, an incident sparked by an alleged verbal attack on a local priest.
In May, an elderly Coptic woman was stripped of her clothes and dragged through the streets of the village of Karam, Minya, after rumors spread that her son was having an affair with a local Muslim woman. Several Christian homes were torched that same week as a result of the tensions.
Pope Tawadros II issued a statement early in August to the expatriate Coptic community, calling for Copts to forgo protests over sectarian tensions and the official response, which is often seen as failing Copts.
The statement was made as a pre-emptive measure before protests scheduled in America and Canada. In the statement, the Pope said that the matter was in hand, and that the recent years of political and social transformation in Egypt have improved the situation for Copts considerably.