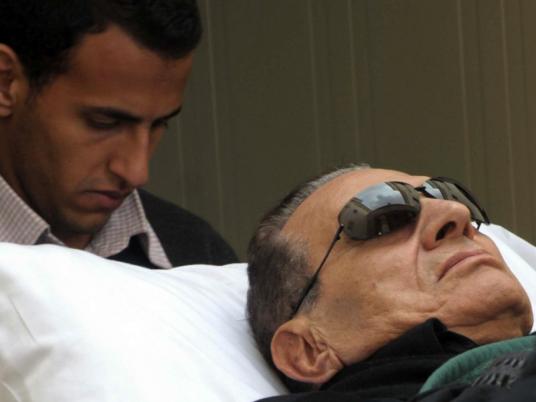 Cairo Criminal Court on Sunday adjourned the trial of former President Hosni Mubarak, his sons, former Interior Minister Habib al-Adly and his six assistants to Monday.
The court also set 20 February as the date for receiving written feedback from the prosecution and plaintiffs' lawyers on the defendants' case, which means no ruling will be made before that date.
Verbal wrangles took place during today's court session, which lasted only five minutes, between the lawyer defending Ismail al-Shaer — the former deputy interior minister for Cairo security sector accused of killing protesters during the 25 January uprising — and one of the plaintiffs' lawyers.
Gamal began defending his client by offering condolences to the uprising's martyrs, which provoked lawyer Magdy Rashed, who was then chastised by Judge Ahmed Refaat.
"If anyone thinks that this trial holds suspects accountable for charges included in the case, the documents have no evidence. I demand the acquittal of the ninth suspect [Shaer] and the other suspects," Gamal said.
Gamal added that the prosecution generalized the accusations against all the suspects. It referred them to trial according to Article 40 of the Penal Code, but should have referred them according to Article 171 on incitement, or Article 175 on inciting security personnel to neglect their duty, he said.
Gamal said investigations were inadequate and biased.
"How could suspects be referred to trial on a charge with no evidence, but based on possibilities deduced from the documents of the case?" Gamal asked. He said if the charges were made due to popular pressure, it would be unjust, because the prosecution should not follow the people but conduct investigations seeking the truth.
Gamal also said that the case documents included reports about foreigners, political groups and attacks on malls and stores to sow division between the police and the people, but the prosecution didn't consider these reports.
Transferred to Al-Masry Al-Youm