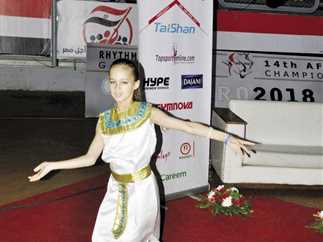 Fareeda Gamal Mubarak, granddaughter of former President Mohamed Hosni Mubarak, took part Thursday in the opening ceremony of the 14th African Championships for Rhythmic Gymnastics and Trampoline in Cairo, Egypt.
The championships event–which is currently held from April 26 to April 28–qualifies some of the winners to participate in the Buenos Aires 2018 Youth Olympics in Argentina.
Two hundred and fifty athletes participate in the tournament representing 14 countries including Egypt, Nigeria, Senegal, Algeria, Tunisia, Morocco, Angola, Zimbabwe, Congo, South Africa, Cape Verde, Namibia, Sudan and Libya.
The security authorities allocated gates 5 and 6 of Cairo Stadium for the entry of invitees who attended the opening ceremony.
During the ceremony, Youth and Sports Minister Khaled Abdel Aziz stressed the ministry's keenness to host international sports championships in various sports, adding Egypt enjoys a distinctive sports structure in different games.
Abdel Aziz stated that holding international tournaments in Egypt promotes tourism and enhances Egypt's organizing abilities.
He welcomed all the players participating in the championships and the delegations accompanying them, wishing participants success.
The ceremony was attended by Gamal Mubarak, Abdel Aziz, President of the International Gymnastics Federation Morinari Watanabe, President of the African Gymnastics Federation Ali Zaatar, and President of the Egyptian Gymnastics Federation Ehab Amin.
Edited translation from Al-Masry Al-Youm