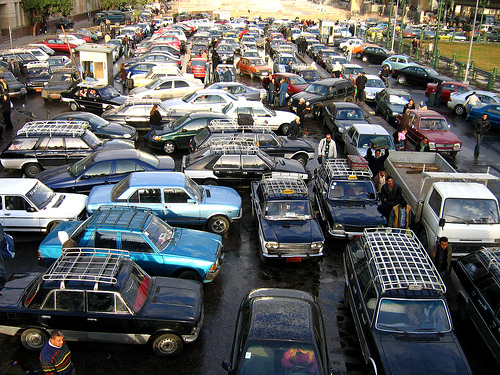 The Cairo governorate is currently working on an idea to create smart parking lots with a multi-story platform and a saving space policy to accommodate double the number of cars, in order to lighten traffic congestion and parking dilemmas plaguing Cairo's streets.
Major Hany Shinishin, director of the Housing Directorate in Cairo, said that the new garage system accommodates more than 6 cars in each floor.
Shenishin added that they are thinking to use the already existing waiting areas in Cairo to double capacity. He stated that the new smart system of garages can be dismantled and installed at any time and fit in large and small areas, allowing it to be built in crowded places to ease congestion.
He added that the garages can be implemented in the narrowest areas, as it can be established in an area 7 meters wide and 7 meters tall, and can be implemented in old buildings, noting that this system comes from Germany.
The project will first be established in multiple areas as a test run, with proposed areas being downtown Cairo and Nasr City.
Shenishin said that new garage will be self-financed from the Cairo governorate, and that although this is an expensive project it's implantation in smaller areas will reduce the total cost.
"This smart system exists in most countries of the world, but Egypt is late in implementing it, despite our suffering from the lack of garages and heavy traffic," he said confirming that a new budget will be set for the project after determining the area to be built for it.
Shenishin explained that a German delegation is currently coming to visit the proposed places, in order to work on necessary designs, and the Cairo governorate will implement construction after the delegation discussed prices.
Cairo traffic congestion costs Egypt LE 50 billion annually representing 4 percent of the national GDP, according to a World Bank study released in 2013.