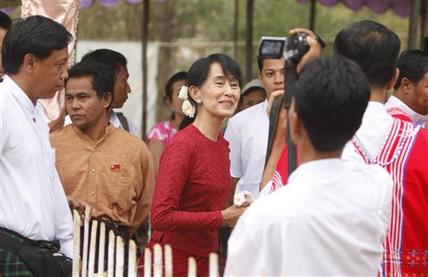 Myanmar's president gave his backing on Thursday for amending a military drafted constitution and indicated support for changes that would make Nobel Peace Prize winner Aung San Suu Kyi eligible to lead the country.
Thein Sein, the reformist general and former top member of the army regime that ruled Myanmar for 49 years, said changing the constitution could help national reconciliation and he did not support laws that bar anyone from becoming president.
"I would not want restrictions being imposed on the right of any citizen to become the leader of the country," Thein Sein said in a monthly televised address to the nation.
"At the same time, we will need to have all necessary measures in place in order to defend our national interests and sovereignty."
The comments by the president are likely to be welcomed by opposition leader Suu Kyi, the 68-year-old leader of a peaceful two-decade struggle against military dictatorship, who has in recent months stated her wish to become president.
For now, Suu Kyi is ineligible for the top post because her two sons are British citizens.
The comments are the latest show of openness by a president who has surprised the world with an array of reforms that were unimaginable under the junta, like the release of hundreds of political prisoners, liberal investment laws, legalizing protests and scrapping of media censorship.
Thein Sein, 68, has yet to declare whether or not he will retire from politics after the next election in 2015, or seek a second term. Other contenders include parliament speaker, Shwe Mann, 66, another key reformer who outranked Thein Sein in the former junta.
According to Myanmar's constitution, the legislature, not the people, are responsible for choosing a president.
Three panels representing the lower house, the senate and lawmakers chosen by the military each nominate a presidential candidate. A vote of the bicameral parliament then takes place, where one of the three candidates is chosen as leader.
Myanmar's parliament has appointed a committee to draft recommendations about how to change the constitution, which critics say is too centralized and offers too much power to the military.
The committee said on Wednesday it had received 323,110 suggestions via 28,247 letters ahead of the December 31 deadline for public feedback. It is expected to submit its report during the next house session, which starts on January 13.
Han Tha Myint, a senior member of Suu Kyi's National League for Democracy (NLD) party, said the NLD had no immediate comment on the president's speech.