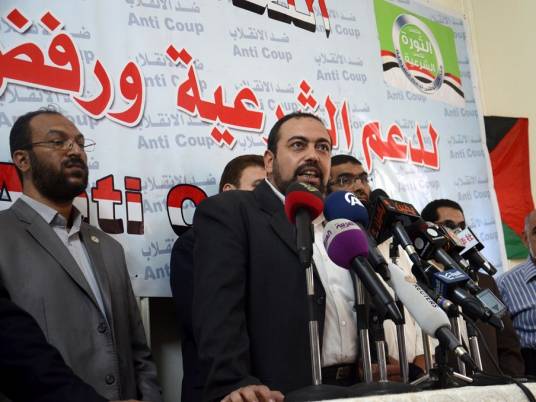 Leaders of the Muslim Brotherhood-led National Alliance to Support Legitimacy (NASL) have said that security troops stormed their houses on Tuesday and arrested Magdy Hussein, chief of Independence Party, Nasr Abdel Salam, acting chief of Jamaa al-Islamiya's Development and Construction Party, and Hossam Khalaf, member of Wasat Party's politburo, who was at protesting at Rabaa al-Adaweya sit-in until it was dispersed.
Safwat Abdel Ghany, leader within the Construction and Development Party and member of Jamaa al-Islamiya's Shura Council, said on his Facebook page that Abdel Salam was arrested early on Tuesday and that house of Alaa Abul Nasr, secretary general of the party was raided, but he was not there by then.
Magdy Qorqor, NASL spokesperson, said Hussein was arrested and that security troops raided house of Diaa al-Sawy, deputy secretary general of the party, and arrested his brother. "I was notified that Nasr Abdel Salam was arrested on Tuesday and that Alaa Abul Nasr's house was stormed but he was not there."
Regarding links between the arrests and the alliance's call for protests against authorities on 3 July, which marks first anniversary of toppling former President Mohamed Morsy, Qorqor said, "I believe it is an attempt to get us involved in violence."
Sabra al-Qasemy, former jihadi leader, said what happened shows that President Abdel Fattah al-Sisi was honest when he said he shut the door for reconciliation, adding there should be no reconciliation with those who he blames for involving the youth in violence against authorities using political slogan that only serve their purposes.
Edited translation from Al-Masry Al-Youm